It was only a matter of time, when will she do it? Where will she do it? The Food Network's sweetheart Giada De Laurentiis has been looking for just the right place and feeling to open her first restaurant for quite some time. After searching, she has added her star to the long list of celebrity chef all-stars on the famed Las Vegas strip.
Doing it up in true classy Giada style she opened her namesake "GIADA" in the brand new $185 million boutique hotel The Cromwell operated by Caesars Entertainment. Located on the second floor her comfortable venue overlooks one of the most bustling intersections right on the Las Vegas strip.
Over the last month we have had the opportunity to speak with Giada about her venue and what it means to her. "It's time to get some girl power here in Las Vegas "she said. If you really think about it, she is the only celebrity chef that did not have a restaurant, until now.
She has been working with Caesars Entertainment for close to seven years. "When I saw the building, I immediately said, I want this space "she stated. "The space is high up and light is very important to me "she added. " Giada's maternal grandfather, is renowned film producer Dino De Laurentiis. "My name is a big one. I want make my family proud and stay true to who we are "she said with determination.
Her warm venue features three dining experiences for guests to enjoy.  Diners can choose the main dining room, lounge or the terrace where you can dine al fresco with a bird's eye view of the strip. We really enjoyed the terrace on our visit with a view of the Bellagio fountains through seven custom 12X10 remote controlled hydraulic windows that wrap around the entire restaurant.
This is Giada's "baby" and she was very hands on in the development. She even tested every chair in the restaurant. "I need to know how narrow, how wide, how sturdy they are. "If I don't sit in each chair, how am I going to know '?
The kitchen also adds to the overall experience. As we walked in for the first time, aromas from the custom antipasti bar, pizza and bread ovens jumped out at us and making us feel right at home.
The highlight of the antipasti bar is the hammered brass bar face and a Carrara gold marble counter stop, with floating glass display shelves.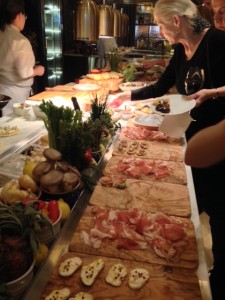 The menu has something for everyone. Keeping true to her De Laurentiis Italian heritage, the menu offers Italian fare with California influences. Her dishes utilize fresh ingredients and show off her take on new Italian cuisine. Looking over the menu, signature dishes Lemon Spaghetti , Lobster Arancini , Pea Pesto Crostini , Marsala Herb Chicken Meatballs and our favorite, Lemon Ricotta Cookies jump off the page.
GIADA is a gastronomic party for its guests. Chefs prepare fresh pastas by hand, slice Italian meats, and make bread and desserts, all as guests watch with anticipation. We highly suggest a look at their wine list that features a nice section of Italian and California wines. For something a little stronger enjoy a signature cocktail or a tasty martini with blue cheese hand stuffed olives.
Giada's opening is probably the most highly anticipated restaurant in the country. Giada De Laurentiis's GIADA will be a big hit with locals and visitors alike. Open for Lunch and Dinner, we highly recommend a visit to GIADA where the food, décor and atmosphere make you feel right at home with Giada herself. Who knows, Giada herself may see you at your table.
https://cuisineist.com/wp-content/uploads/2019/08/cuisineist-logo.png
0
0
Elaine and Scott Harris
https://cuisineist.com/wp-content/uploads/2019/08/cuisineist-logo.png
Elaine and Scott Harris
2014-06-03 16:52:56
2014-06-03 16:52:56
Food Network Celebrity Chef Giada De Laurentiis Opens Her First Ever Restaurant In Las Vegas At The Cromwell Boutique Hotel.