Las Vegas is constantly evolving as an international food and beverage destination city; a place that spends millions on ambience as well as creating cuisine that elevates the appetite. As 2018 quickly comes to an end a time of reflection on refined dining venues and new hot spots is worthy of some contemplation as dining is so integral to our social habits. With the focus on more experiential dining venues to please the Millennial crowd, newly dining digs are opening at record speed along the famed Las Vegas Strip.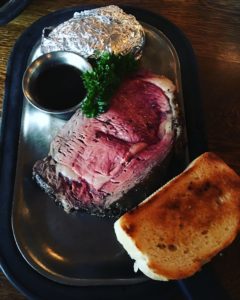 With newcomers Block 16 Urban Food Hall, CATCH, NoMad and Cipriani's in addition with Station Casinos multi-million spending there is plenty of competition amongst the culinary corridors of Las Vegas. As the City moves forward as a dining juggernaut it now attracts more diners per year than gamblers. Off the Strip, some of the best dining can be found with the recently opened Cleaver, Rooster Boy and MordeoLV.
These restaurateurs have taken the challenge to throw their pots and pans into the culinary arena. How does one stay relevant year after year as the number of new chefs and celebrity chefs weave their way into the Vegas restaurant landscape? From our observation it takes many factors, but the two that truly stand out are customer service and great food. If you excel at both, than you are such to survive and thrive in a city that is always hungry for great food 24/7.
Why not start the Vegas culinary journey with a walk through an Asian inspired street market? Block 16 Urban Food Hall is the place to sip, savor and stroll in the hip and happening Cosmopolitan Hotel, Casino and Resort.
The Food Hall offers Nashville's famous Hattie B's Fried Chicken, New Orleans District with its made from scratch bites, biscuits, donuts and sliders. Lardo out of Portland focuses on deeply flavored bold tastes in their pork and beef dishes while Portlander and James Beard Award winner Andy Ricker's Pok Pok Wing lends wing fans a place to dish, dine and devour this tender meaty marvels, along with his many other Asian inspired menu items. Not to missed, the Ghost Donkey bar where top shelf tequila and mezcal go well with Truffle Nachos and inventive bar snacks is an intimate artsy space.
NoMad recently made its grand debut under the Neon lights of Sin City to much fanfare. The hoopla is well deserved as this NYC and LA hot spot that is now under the Las Vegas dining and drinking banner. Will Guidara and acclaimed Chef Daniel Humm have created an exceptional food and beverage program that elevates both the palate and the party.
The Sydell Group in partnership with Make it Nice operates the Nomad Hotel that has just recently opened offering a place to party and be pampered within a few feet of each venue and with complementary Valet in a city that put a premium on parking this is indeed a notable incentive.
NoMad's James Beard award winning bar program under the direction of master mixologist Leo Robitsheck is the place to imbibe and be seen. Bar menu items recommended are the carrot tartare, gourmet hot dog and the black truffle tartlet. NoMad's main dining room is a spectacle to behold as this two story library concept displays an impressive 25,000 book collection that will have you reading the bold headlines of refined dining. In the gorgeous library, dining with a demonstration is highly recommended.
Begin with the Martini Cart, a "tableside presentation of the Martini Cocktail and its variants throughout the 20th century" beginning with a Manhattan and ending with the 2018 Mirepoix crafted with very special spirits.
The Nomad Roast Chicken with its alchemic blend of foie gras, black truffle and brioche is a gastronomic indulgence that does raise the bar on all others chicken dishes in town. Complete the meal with a fire and ice presentation of the delectable Baked Alaska, served table side with flaming flair and exquisite service. NoMad late in the year opening has ushered in a new era of fine dining where dinner becomes an outstanding meal memory.
CATCH opened at the Aria Hotel boasts a globally inspired selection of dishes and a décor that could make Monet proud. Garlands of greenery intermixed with twinkling lights that guide you down the corridor as soothing water features induce a Zen like state. The giant floral butterfly wings are a popular selfie spot along with the peony wall of prettiness. No, this is not a walk into Oz, but a culinary journey into a world of shared plates and shared selfies. This LA popular restaurant now has a Vegas counterpart and has quickly become the "go" to place in Vegas. The restaurant transforms at 10 p.m. Thursday through Sunday as a DJ hot spot.
Must have Instagram and culinary marvels are the truffle sashimi bathed in rich black truffle puree, chili ponzu and caviar; the Hellfire Roll composed of spicy tuna and Asian pear is offered with a dramatic presentation; and the Salmon Belly Carpaccio will have you spellbound with tantalizing flavors. Along with creative cocktails such as the Ziggy Stardust and the Mood Ring, CATCH's interesting culinary story is worth repeating.
Over at the Bellagio, Wolfgang Puck's Spago reopened at the now shuttered Olives with unparalleled fountain views and a dazzling display of picture perfect dishes that are in tune with seasonal ingredients. Wolfgang's signature handmade pastas, pizza, and fresh proteins cooked to perfection can all be enjoyed al fresco while enjoying the spectacular Bellagio Fountain.
Try the Farm fresh baby beets with a citrus yogurt, pistachio and feta cheese with the veal "Weiner Schnitzel" along with a WP wine or cocktail.
Within the Bellagio is the crème de la crème of haute dining. Newly appointed Executive Chef Alan Madonivich and staff strive for perfection as Le Cirque's continues to maintain the highest levels of French cuisine. As a one star Michelin, AAA five diamond and Forbes five diamond award winning establishment, serious diners know this is the place for dining distinction.
With truffle season upon us, the Alba white truffle risotto will whisk you into culinary heaven. Several tasting menus are available along with superb selection of wines and cocktails. Chef prepares dishes that are worth a plane trip and continue to dazzle and demonstrate a superior dining experience.
Across the fountain, The Venetian/Palazzo  is undergoing their own changes with the opening of the modern Electra cocktail bar and lounge are and acclaimed chef Ricardo Zarate's ONCE (pronounced on-she) combines Japanese influences within his thoughtful Peruvian cuisine. Nestled along Grand Canal Shoppes with its garden like atmosphere and delectable menu items including grilled octopus and oxtail Bibimbap, Once is well worth a stop after the shop.
Next door, the Wynn Plaza Shop is now home to a NY staple, Cipriani's. This is the where the sleek, streamlined nautical interior, white jacketed servers, impeccable service and signature Italian dishes combine for another look into the new face of elegant Vegas dining. Begin with an original Bellini and the Carpaccio alla Cipriani, or the Chilean sea bass "alla Carlina or any other of their well know and popular dishes.
At Caesars' Palace Gordon Ramsay started 2018 with a searing hot entrance with the opening of Hell's Kitchen which continues to draw huge crowds on a daily basis.
Chef Giada De Laurentiis followed suit with the opening of her casual eatery Pronto. Now the newest place to brunch is Pronto where this casual grab and go concept transforms from into a relaxed brunch spot Sat. and Sun. with Chef's light and delectable brunch menu within the multi-stations. Plates of antipasto, made to order omelets, and hand cut Tuscan beef tenderloin and a tower of Giada's decadent desserts including her signature lemon ricotta cookies are such to please tourist and local alike.
Off the Strip another Food Network star, Chef Scott Conant has opened Masso Osteria within the Red Rock Resort and Casino to the brunching crowd with 100 layer lasagna, carving and dessert stations bottomless mimosas, along with a menu items that include a Porchetta eggs bennie, panettone French toast and chef's signature pasta al Commodore. Conant's his signature sauce and olive oil is now available at select retail shoppes.
Station Casino's has been busy with their multi-million dollar renovation of the Palace Station and their complete overhaul of the Palms rendering stunning new dining sites. bBD' s standing for beers, burgers and desserts boast a lineup of 26 rotating drafts, sours and limited releases. A complete butcher shop and open air kitchen will captivate diners as their prime beef burgers are cooked to order over a wood fired grill infusing irresistible flavors in perhaps some of the best burgers around. As far as the desserts, Instagram worthy shake and house-made soft serve ice cream are camera and palate popular.
Next door the Boathouse Asian Eatery offers an outstanding happy hour menu with $3 beer and $5 beer specials and $6 well drinks, fresh sushi, and an eclectic blend of traditional Asian dishes and flavors all within an modern, sleek and artistic atmosphere including a mural of a giant octopus symbolizing good luck.
The Palms dining list of new opening keeps coming with the overhaul of N9 Steak transformed into a modern steak house, SCOTCH 80 and the elegant Italian Vetri replacing Alize. More dining venues will be popping up quickly in the 2019 as the renovations and innovations continue.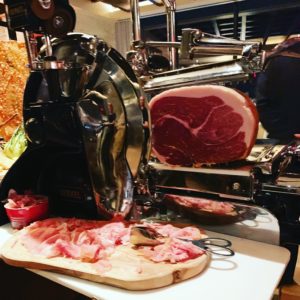 Off the Strip local restaurateurs are now bringing their own brand and culinary expertise for those who crave elevated dining but rather deflect driving to the Strip. Not far from the Strip on Paradise Road is Cleaver-Butchered Meats, Seafood & Classic Cocktails.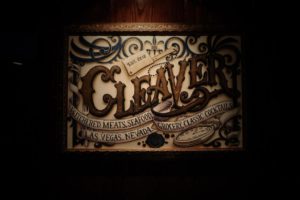 This is the retro steakhouse concept of barman and expert mixologist Nectaly Mendoza whose nine years at his award winning Herbs & Rye laid the foundation for this owner operator to move forward with his expansion dreams. With now two off-strip venues to choose from diners will love the consistency of ever exceptional cocktails, steaks, pasta and seafood.
Award-winning Chef Khai Vu and Master Sommelier Luis de Santos have established MordeoLV Boutique Wine Bar, a gem of Spanish, Asian, and South American influenced dishes paired with just the right glass of wine or cocktail.  A nod to truly global gastronomy with killer small plates of grilled Spanish octopus, yuzu chicken and pork cheek skewers gilled over a Japanese bench charcoal, alongside a bevy of brilliant tastes that rival any on- Strip offerings.
Located along lake Jacqueline in Desert Shores Rooster Boy Café is perhaps one of the best bistros to open in Las Vegas in 2018, the concept of seasoned chef Sonia El-Nawal. This quaint neighborhood eatery open 7 am-3 pm Tues.-Sun. is just the place to pop in for a bowl or bag or Sonia's Rooster Boy granola that come in 4 varieties: Original, Grain free, Extra Rich )with bits of dark chocolate in the mix) and Low Guilt, or a sumptuous galette( free form French pastry dough) filled with savory or sweet ingredients, or a hearty meat and egg breakfast served with piping hot coffee or one of the other thirst quenching beverages. Chef's Sonia's love and passion for hospitality and sourcing the best possible ingredients will have you a frequent flyer.
Another hidden taste treasure located in the Lakes neighborhood just a few years young, is Chef Marc's Trattoria. Chef Marc Sgrizzi 30 plus years as Chef and restaurateur have proven passion found his plates of pasta and signature Italian dishes. He continues to please the locals with daily menu specials like Tuna Bolognese or an exquisitely prepared veal chop. All pastas are made in house and Chef Marc is committed to the best in ingredients, service and quality throughout his restaurant operations.
With such a variety of tastes, cuisines, and atmospheres to choose from, dining in Las Vegas is ever exciting, tantalizing and above all multi-cultural. On the Strip or in the suburbs Las Vegas is always heating things up both on and off the stove.
https://cuisineist.com/wp-content/uploads/2011/11/Las-Vegas-aerial-pano2.jpg
189
650
Elaine and Scott Harris
https://cuisineist.com/wp-content/uploads/2019/08/cuisineist-logo.png
Elaine and Scott Harris
2018-12-26 21:30:20
2019-10-10 19:03:38
In The US, 2018 was a year of moving fast forward in the Las Vegas dining scene on and off the strip.