Las Vegas is no stranger to Culinary Stars as many of the World's Best Chefs have venues up and down the famed Las Vegas strip.
Food & Wine Magazine brought in even more of these Master Chefs and Top Chef Contestants to the beautiful ARIA  Resort and Casino for the second annual All-Star Weekend hosted by Bravo's own Top Chef Judge  Gail Simmons and Food & Wine Magazine's Anthony Giglio for a weekend that would make any  "foodie" salivate with excitement .
To get this three day weekend started right , an" A"  list of Renowned Chefs  joined  the all-star lineup from ARIA and Bellagio such as Jean-Georges Vongerichten, Masa Takayama, Shawn McClain and Julian Serrano and  restaurateur Sirio Maccioni  on the Red Carpet side by side with  Bravo TV's Top Chef alums Stephanie Izard, Hosea Rosenberg, Angelo Sosa and Sam Talbot.
Where else but Las Vegas could guests in attendance see this many of their culinary heroes all side by side.  As the Red Carpet cooled off, Chefs and Guests alike headed to ARIA's chic View Bar to get the party started.
Gail Simmons welcomed those in attendance with a Champagne toast. "We had an absolutely amazing weekend last year," she said. "I'm so happy to be a part of the festivities again."
With that, the party began with passed hors d'oeuvres from a world class line up of cuisine from ARIA's own line up of All-Star Chefs including Julian Serrano's Lobster-Pineapple Skewers, Sage's Foie Gras Brulee and BARMASA's Seafood Ceviche.  This was just the beginning and the kick off night was gaining momentum. With an event like this, it could never end too soon. After sampling some mouthwatering dishes in the View Bar it was time for Dessert and a late night cocktail.  UNION Restaurant & Lounge was the set for All-Star Nightcap.
Decadent desserts such as Frozen Coconut Bites and Chocolate Cremeux from Top Chef Just DessertsSeason One winner Yigit Pura were enjoyed as guests took advantage of the intimate setting to mingle with some of the best chefs into the early morning hours.
Looking ahead to the following day with two luncheons and the All-Star tasting, one could count on this weekend as a memorable culinary journey. The second day of this All-Star event offered up some tantalizing choices.
Chef Shawn McClain and Top Chef Season 4 Winner Stephanie Izard  teamed up in the Kitchen and Anthony Giglio hosted "A New American Lunch" at Sage in ARIA  or one could join Gail Simmons and Director of Wine, Jason Smith, for a "Luxe Lunch" at Tuscany Kitchen in Bellagio for a mid day culinary experience .
Sage in ARIA was our choice for lunch. The dark, richly designed venue delighted guests as they were welcomed by Chef Shawn McClain himself and refreshing Champagne cocktails at the reception. Having dined at Sage in the past, we took our seats with great anticipation of what we were going to experience.
Chef Shawn McClain and Stephanie Izard alternated courses paired with wine or a cocktail to our palates delight.         Stephanie's Third Course of Seared Diver Scallops with Smoked Goat XO/Winter Squash/Shiitake Mushrooms was one of the best Scallops we have had in quite a while.
The last cocktail, Germain-Robin, Absinthe / California got everyone in the right mood for the All-Star tasting under the stars at ARIA's luxurious pool. ARIA's pool glistened in the moonlight as renowned chefs Julian Serrano, Masa Takayama, Michael Mina, Shawn McClain, Jean-Georges Vongerichten, Jean-Philippe Maury and Three Star Michelin Chef Pierre Gagnaire served mouthwatering delights from their world-class restaurants.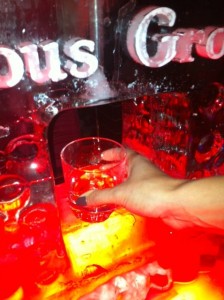 Bravo TV's Top Chefalums Hosea Rosenberg, Sam Talbot, Stephanie Izard, Yigit Pura and Angelo Sosa also were eager to impress the guests as they stood shoulder to shoulder with The Masters.
The always Gracious Host Gail Simmons was excited as she addressed the guests,  "I can honestly say that I'm so excited to be back here in Las Vegas at the beautiful and luxurious ARIA & Bellagio Resorts."  "Eat, drink and live it up! "  Guest's did just that as they strolled poolside being served by the All-Stars themselves.
Walking around the pool with cocktail or wine, guests had a variety of culinary experiences to enjoy.
Glazed Pork Belly from Shawn McClain's Sage and Goat and Peanut Thai-style Stew that stood out as guests favorites served  by Top Chef Season Four Winner Stephanie Izard.
Michael Mina offered his signature Shrimp & Grits Skewers and just a fork full away, Top Chef cheftestant Sam Talbot provided Fish Tacos with avocado and lime.
Of course our sweet tooth was satisfied by creations being served by Top Chef Just Desserts Season One winner Yigit Pura who was all smiles about his latest venture set to open in San Francisco in May 2012.
There were dishes for anyone's palate including BARMASA, Sirio Ristorante and Jean Georges Steakhouse, which served Braised Short Ribs, Alaskan King Crab & Leek Salad and Truffle Cheese Fritters respectively.
ARIA's Pool provided a relaxed atmosphere with its tropical vive and lush landscape.  The Starlit sky, the decadent Food, and easy listening tracks by DJ R.O.B. provided an enjoyable experience for all that attended.
An event like this has to have a "period" at the end of"foodtastic"weekend.  A Champagne & Caviar Brunch hosted by Food & Wine Magazine's Anthony Giglio at Jasmine over looking Bellagio Fountains was not just a "period" at the end of the weekend, but an "exclamation point".
An event like Food & Wine All-Star weekend is unique in so many ways.  Bringing together an All-Star team of Chefs at intimate events allow guests the opportunity to speak with master chefs and try their signature dishes
The ARIA Resort provides many amenities anyone could wish for during their stay. Putting this all together in Las Vegas, with gracious and accessible hosts, makes Food & Wine All-Star Weekend a "destination "weekend that guests will return to year after year.
https://cuisineist.com/wp-content/uploads/2019/08/cuisineist-logo.png
0
0
Elaine and Scott Harris
https://cuisineist.com/wp-content/uploads/2019/08/cuisineist-logo.png
Elaine and Scott Harris
2011-10-31 19:18:03
2011-10-31 19:37:23
Food & Wine All-Star Weekend Returns To ARIA In Las Vegas And Provides Culinary Memories To Last A Lifetime.