A couple's wedding day is a day that is remembered for generations. Many couples today are looking for unique wedding destinations that provide an intimate experience not only for themselves but for their guests as well. Some wedding parties may want to have a destination outside of their own country by looking to rent an island in places such as Fiji, Brazil, Greece, etc. it all depends on how you want to celebrate your special day, there is no wrong way! The very beautiful central coast of California is becoming a wedding destination as well, this is not only beautiful but historic too. People who aren't local to this area are even considering having their wedding in California because of the beautiful scenery. Couples also have to think about the photographs they'll be having taken throughout the day, which is why having a lovely backdrop is essential. Having the perfect dress for your wedding photos is also important. Most brides look to their local wedding dress franchise to produce a beautiful gown for them to wear, although you could consider looking somewhere like Winnie Couture (WWW.WINNIECOUTURE.COM/STORES/WEDDING-DRESSES-BEVERLY-HILLS-CA/) for ideas for your perfect dress. Making sure you choose the perfect venue is another thing that needs to be decided.
One of the most beautiful wedding venues is located right in the middle of the Central Coast's wine country is Pomar Junction Vineyard and Winery that provides the ultimate venue for a genuine Central Coast destination wedding. This will look beautiful in the background of your photographs! Here's a pointer, if you're looking for a list of the top 18 wedding venues, you may want to take a look at Sergey Lapkovsky Photography since he's been to hundreds of venues photographing his satisfied clients!
Located among rolling hills on a 100-acre sustainably-farmed vineyard and olive grove in Templeton, Pomar Junction is a family owned and operated winery that prides itself on hosting magical weddings with a touch of country.
"Pomar Junction is different from your typical Central Coast wedding venue," says General Manager Matt Merrill. "The property is remote yet accessible, so there's a true sense of getting away from it all. Also, we are an estate winery, so bridal couples can plan their ceremony anywhere on the vineyard that they choose, whether that's on the hill overlooking the vines at sunset or under the giant oak tree by the tasting room."
The most popular option for weddings at Pomar Junction Winery is a tractor-pulled gondola ride for guests throughout the vineyard. It is especially beautiful in the summer or fall, when the vines are at their colorful peak. For the reception, the newly wedded couples often choose to celebrate on the property's central lawn. The ancient grand oak tree can be decorated with hanging lanterns or candles for an evening wedding, and a stage is available for the wedding party, DJ, or a live band. A dance floor can also be constructed for dancing the night away with family and friends under a central coast starlit sky.
Couples have the freedom to select the caterer of their choice and use the full-service Pomar Junction kitchen, located in the large estate house where the wedding party can dress, relax, and prepare for their big day. The kitchen or the large oak-pit barbecues make for an uncomplicated casual rehearsal dinner on the estate, amid the vines.
Pomar Junction can even suggest local caterers, rental shops for tents, chairs, linens, and whatever else is needed. The maximum recommended number of guests for a Pomar Junction wedding is between 200 and 250 people. The cost for use of the venue is $2,500. You will also need to consider transport to your chosen location. Dream Limousines, Inc' limousine service near me, or a similar company can be a great choice to travel in style to your wedding.
Lodging options abound in nearby Templeton, including several bed and breakfasts just a stone's throw from Pomar Junction. Less than a mile away lays the Hidden Hills Bed & Breakfast (www.HiddenHillsBB.com), which offers luxurious comfort, a gourmet house-made breakfast, a wrap-around veranda overlooking a peaceful swimming pool, and arrangements for wine tours and private tastings across Central Coast wine country. Also nearby are the Carriage Vineyards Inn (www.CarriageVineyards.com), and the Bike Lane Inn (www.BikeLaneInn.com) which hosts bike tours to regional wineries.
Pomar Junction Vineyard & Winery highlights a legacy of eight generations of Central Coast farming through their lovely estate wines. They also enjoy a rich heritage of sustainable practices in the vineyard and minimal intervention in the cellar. For more information about Pomar Junction Vineyard & Winery, call (805) 238-9944, or visit www.PomarJunction.com. The Pomar Junction vineyard and tasting room are located at 5036 S. El Pomar Road in Templeton, CA 93465
In addition to Pomar Juction, this lovely area of California has a few other options for the soon to be married couples.
Thacher Winery at the historic Kentucky Ranch is also a very special place to celebrate. Intimate weddings and parties happen to be their specialty .The Thacher Family offers guests complete privacy and exclusive use of the 52 acre ranch, 1920's KR Barn, winery, tasting room and vineyard. The setting is classic country, with all the casual charm of an old fashioned Californian horse ranch. Guests Enjoy views of hay fields, vineyards, oak studded hills while sipping on award winning boutique, Zinfandel and Rhone wines.
Winemaker Sherman Thacher, and his wife Michelle have owned and operated the Kentucky Ranch and Thacher Winery since 2004. Michelle's dedication, attention to detail, and willingness to make that special day unique and exceed expectations of the happy couple and their guests.
For a true historic, rustic wedding Santa Margarita Ranch could be the place for you. It is a unique, memorable wedding and reception site located just minutes from l San Luis Obispo.
The ranch consists of a sprawling 15,000 acres and is home to a thriving vineyard and working cattle ranching operation.
The ranch offers outdoor seating for up to 1,000 guests in a lush garden featuring a majestic ,historic oak tree, an 18th century wishing well, 30 year old olive trees and abundant roses.
The landmark of the Ranch is their iconic barn that encloses mission-era stone walls and seats up to 300 guests. To top it all off the newlyweds and their guests can ride on an authentic Disney narrow-gauge steam engine on a 20-minute loop around the property.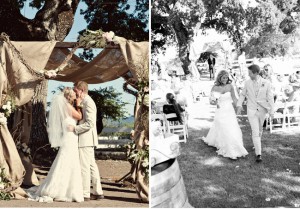 The Ranch even features a private bridal cottage in a building which once housed a Wells Fargo on the stage coach trail complete with the original safe on the front porch.
The Central Coast of California offers an abundance of beautiful venues for couples, their families and guests to celebrate their very special day. Santa Margarita Ranch and its iconic barn, the intimate Thatcher winey and the picturesque rolling hills of Pomar Junction offer lovely options to fit any celebration's needs. If planning a wedding, the Central Coast of California should be at the top of your list.
https://cuisineist.com/wp-content/uploads/2019/08/cuisineist-logo.png
0
0
Elaine and Scott Harris
https://cuisineist.com/wp-content/uploads/2019/08/cuisineist-logo.png
Elaine and Scott Harris
2012-03-09 19:19:20
2012-03-09 19:19:20
Authentic Central California Weddings Provides Historic, Picturesque Options For That Special Day.