Memphis may be the city of great BBQ, Blues, Elvis, rock and roll and center of the Civil Rights movement, but it also boast the best drinking water in the nation. "Memphis has the sweetest, most wonderful tasting water in the world, "said Dr. Jerry L. Anderson Director of the Ground Water Institute at the University of Memphis. As one of the largest cities in the world to relay on ground water for its supply because of a naturally occurring aquifer, Memphis water draws companies, like Coors and Wise Arce Brewing, Ghost River Brewery and recently opened Old Dominick Distillery.
Water sustains life and in Memphis it is evidenced in their high quality beverages, great food, while attracting new community entrepreneurs. With great water, good infrastructure and a vibrant economy, Memphis is on the rise as being one of the fastest growing cities in America but it is also a great city that honors its dramatic history with many interesting exhibits and museum. The ideas presented are but a cross section of some of outstanding venues that would fit in a first time visit or a weekend getaway.
While planning a visit to this surprisingly vibrant city, a stay at the ubiquitous Peabody Hotel also known as "South's Grand Hotel" is a must. Opened in 1869, The Peabody has been a place of prestigious social interaction for over a hundred years, and one of the most interesting animal interactions that continues to this very day, the Duck Parade.
"I have lived here in Memphis for thirty years and today I finally made it here to watch the duck parade," said Tonya a Memphis local. The opulent hotel features the glory of yesteryear with art deco stained glass, dark wood accents, and the famous center fountain that began the legendary duck parade that has been taking place for over 80 years.
Twice daily the red carpet is laid down and red velvet ropes are secured as the ducks make their way from their upstairs abode known as the Royal Duck Palace to the main lobby fountain where adoring fans await to see these waddling wonders.
How did such a rather strange ritual happen to embed itself into the fabric of hotel history? In 1930's General Manager Frank Schutt had just returned from a hunting trip and as the tale goes he and his companion came back somewhat inebriated and thought it would be amusing to leave the live English call decoy ducks in the fountain.
The prankish idea became a marketing marvel; Bellman Edward Pembroke a former animal trainer embellished the idea with a daily duck parade through the hotel to entertain the guests. The idea was so successful that Pembroke became the first Duck Master escorting the five Mallard ducks (one drake and four hens) through the hotel for over 50 years. And the tradition remains today with eager duck watchers filling seats at the bar and the balconies making it a first come first glimpse attraction. "These ducks have brought a great deal of prosperity, "said barman Steve. " I have been at this job for 40 years because those duck never fail to bring me business."

It is not all about the ducks but also dining at the Peabody (duck is NOT on the menu), as renown restaurant Chez Philippe is the place to dine and drink in opulent surroundings with the best of French cuisine, minus the foie. Chez Philippe pays homage to a grand Parisian opera house with murals of masqueraders peering down balcony boxes; underneath the costumed clad opera goers are paintings of the Belz family members who have owned and operated the Peabody since the 1970's.
The emphasis on fine dining includes all the finery that underpins haute cuisine with attentive service, elegant surroundings and artfully plated dishes that are tastefully paired with an array of the best in French and American wines. Having the accolade of being the only Forbes Four Star and AAA Diamond rated restaurant in the mid-south, the classical French cuisine from executive chef Andreas Kisler and Chef Robert McGrattan are sure to please the most sophisticated diner.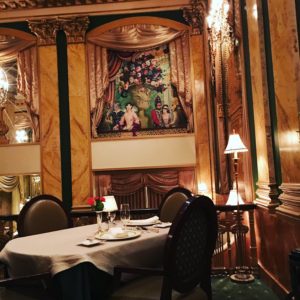 The four course menu covers selections from the garden, ocean land and confection while the tableside Caesar salad and Cherries Jubilee come with classic culinary preparations that are sure to impress every diner.
The ocean course of the perfectly seared sea scallop with preserved Meyer lemon, cucumber accented with warm chili oil delicately presented in a yuzu-green tomato broth is a laudable dish to commence your dining adventure. For the land course try the Colorado Lamb Loin that pairs beautifully with 2012 Chateau Blaignan grand vin de Bordeaux from the Medoc region. Each dish exudes a fusion of classic and yet modern sophistication that represents the best in classical techniques with subtle modern nuances that renders this restaurant as a must stop for every gourmand.
A stay at the Peabody gives also should include a restorative spa treatment at Feathers Spa. This full service resort-style spa offers a plethora of luxurious salon treatments including their signature couples Ashiatsu Barefoot massage. After a relaxing Spa treatment head to the roof to hear some of the hottest bands and imbibe in the coolest drinks while watching the sun set over the Mississippi.
Every Thursday night hotel guests can enjoy the Rooftop Party Season gratis while others participate for a $10 entrance fee. VIP packages are also available.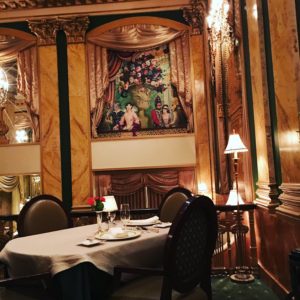 After indulging in amenities at the historic Peabody here are a few highlights that should not be missed while visiting Memphis include a musical retrospect, a look at the Civil Rights movement, great food, and shopping along with a stroll through one of the largest green spaces in America.
Music: Beale Street, Sun Studio, Stax Museum of American Soul music and the Blues Hall of Fame.
Music is the fabric of life in Memphis and the famous Beale Street is just minutes from the Peabody Hotel. Declared to be the official Home of the Blues by an act of Congress, Beale Street offers nightly entertainment, dining and street performers such as the Beale Street Flippers, who mesmerize on lookers with their continuous back flips down the center of the avenue.
But it is the old school Blues performers found in the juke joints that embody the heart and soul of Memphis music that will have you going back night after night.
Other venues that showcase Memphis music include Sun Studio, the famed recording studio opened by rock and roll pioneer Sam Phillips that pioneered the recording careers of Elvis, Johnny Cash, BB King, Carl Perkins, Jerry Lee Lewis, and Charlie Rich along with a who's who list in the world of country music, rock ability and Rock and Roll.
Along with a tour of Sun, take time to check out Stax Museum of American Soul Music. Stax played a crucial part in introducing the world to Memphis Soul while producing some of the most popular soul music labels of all time launching the careers of legendary artists such as Otis Redding, Rufus and Carla Thomas, Isaac Hayes, and many others.
A visit the high tech interactive Blues Hall of Fame is also a great place to hear the music and see the artifacts of the great Blues singers that shaped American music.
History: The National Civil Rights Museum
The National Civil Rights museum incorporates the old Lorraine Hotel as the part of the memoriam to King along with the many artifacts of the civil rights movement. Faith Morris, museum executive calls this, "the most comprehensive storytelling of the American civil rights movement."This year commemorates the 50th year memoriam of Dr. King.
Dining: Central BBQ, Charlie Vergas's Rendezvous, Gus's, The Liquor Store, Bounty on Board, Gray Canary and Catherine and Mary's.

Across the street from the Civil Rights museum is one of the best BBQ joints in Memphis, the Central BBQ. Memphis is known for BBQ and there are plenty of joints worthy of every swipe of the paper towels but these few are a couple of noteworthy places that should not be overlooked. Central BBQ has been ranked in the top 3 BBQ restaurants since 2003 but it is their nachos that are not to be missed along with their slowed cooked meats. Their premium meats are marinated 24 hours (never sauced over the pit) then cooked low and slow over hickory and pecan woods imparting its special alchemic blend of smoky sweetness that has hungry Memphians and eager tourists showing up in daily droves.
Going old school, Charlie Vergas's Rendezvous is another locals and tourist favorite. Noted for setting the standard for "Memphis style" barbecue ribs half a century ago this downtown basement eatery pays homage to the backyard BBQ's of the old Memphis neighborhoods. Who doesn't love great fried chicken? Gus's is place where their World Famous hot and spicy golden-fried chicken will give you the true taste of Southern comfort food that is worth the wait.
For those diners who want to mix it up from the BBQ joints and soul food restaurants.
Memphis's contemporary Chefs are combining the city's traditional flavors with their own culinary creativity. 2018 James Beard Nominated Best Chefs southeast Michael Hudman and Andy Ticer are taking their culinary entrepreneurial spirit to elevated heights as they integrate their innovative cuisine with southern soul comfort food to engage eager Millennium diners in trying new tastes and sharable plates.
Their first downtown venture Catherine and Mary's located in the historic Chisca Hotel (now renovated apartments) not only embodies their southern roots but also pays respect to their Italian Heritage.
"These dishes are to be shared family style," said server Linton. "Dish concepts come from the Chef's Italian Grandmothers cookbooks and childhood memories but they add their own modern playfulness that speaks from the heart and soul, "added Linton. In keeping with seasonal ingredients menus do change periodically but several standouts are the Brussels Sprouts cacao e pepe, brisket "burnt ends", honey,calabrian chile along with the Francoballi ; postage stamp size house made pasta with sunchoke, apples, lemon, brown butter and pistachio. These dishes speak of Ticer and Hudman's superb ability to create elevated tastes and textures that delight the palate and engage the imagination.
A few blocks away Ticer and Hudman have just opened another space next door to the Old Dominick Distillery, the Gray Canary. Again, keeping with the idea of sharable plates that encourage dining conversation, the divine dishes of mortadella with beets cabbage, pistachio and brown butter or a dozen assorted oysters from the raw bar accompanied by an innovative cocktail will have your group flocking back for more.
A bit of a drive from the heart of Downtown for those wanting to venture out a visit to Bounty on Broad or the Liquour Store are well worth the Uber. Bounty in the up and-coming Broad Avenue is where guest can indulge in family style plates, and it is the Moroccan Spiced Lamb Ribs Confit, white beans, Carolina Barbecue Sauce accented with pickled mustard seed that will have you asking for seconds. Just a few blocks away the Liquor Store is another hipster happening place that has an island casual vibe where breakfast, beefy burgers and sumptuous sandwiches' along with creative cocktails are served all day. After dining, take a stroll along the Bounty to enjoy some artisanal shops for a one of kind souvenirs.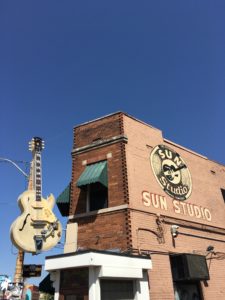 After all that dining, drinking and discovery take time to visit one of the country's largest green spaces. But before the drive out to Shelby Farms stop at Gibson's Donuts for the maple and bacon donut that will have you in donut ecstasy. Be careful these donuts are additive with their pillow soft texture and luscious ethereal toppings.
Fuel up and ready to go burn of guilty pleasure calories, Shelby Farms is the place to run, bike, paddle board and have an artisanal meal at the farm to table restaurant the Kitchen. Shelby Park has 4,500 acres of green space boasting 4,500 trails for whatever your choice of outdoor adventure.
Shelby Farms Park Conservancy a nonprofit works diligently to keep Mother Nature looking as lovely as possible; clean, green and safe. From Graceland to Green-space, Memphis has many delightful discoveries to behold. Educational, awe-inspiring and transformative Memphis had something for everyone on your vacation hit parade.
https://cuisineist.com/wp-content/uploads/2018/05/IMG_3417.jpg
1350
1080
Elaine and Scott Harris
https://cuisineist.com/wp-content/uploads/2019/08/cuisineist-logo.png
Elaine and Scott Harris
2018-05-23 22:23:47
2019-10-10 19:26:18
Iconic Memphis Tennessee is becoming more than just BBQ and Blues and Is Well Worth A Visit.