The Highway is calling you to put your suitcases in the car and move onto The Central Coast of California.  This is a journey on Highway 1 where the ocean wraps around your windshield and the cool ocean breezes waft through the windows allowing your senses to embrace the sights, smells and sounds offered in this pristine part of the country. We decided to share this sojourn along this great part of America. We started our journey along the vistas of the Pacific Ocean as we pulled into our clean and comfortable room at the Quality Inn at Pismo Beach. This hotel is ideal for those who want to spend their time at the beach or investigating the great outdoors but want accommodations that allow them to feel rested and refreshed for the next day adventures along Highway 1.
Pismo Beach , An American Beach town located half way between San Francisco and Los Angeles along the Pacific Coast  offers visitors great weather, fabulous dining, golfing, surfing, horseback riding and just about any activity for all outdoor enthusiasts.
As we wove our way up the coast, we ended up making a stop in Avila Beach California, another hidden gem off the highway.
This unique beach town has a fascinating history and has many new businesses and restaurants. This town was once a refueling station for large ships and in the interim had to be cleaned up from many years of oil spillage and was literally rebuilt from the ground up. With funding, dedication, and great community effort the shores of Avila Beach has been the beach "Phoenix" that rose up from the oil slick to become a glittering gem amongst the beach towns along the Highway. Avila Beach is now a little unknown oasis, that offers get vacation outlets for all travelers. From verdant hiking trails, natural hot springs, and even an Aquarium, there is something for everyone.
We strolled along the lovely shops adjacent to the wide blue green Pacific and  we stopped into Cuvee. This unique Bistro, is noted to be a Champagne Bar, but also features, great sparkling wines as well as wines from local wineries, beers, and spirits. Our owner, Alex Radogna, is taking the helm and doing a great service by introducing customers to the area's culinary abundance.
As we sipped on local Sparking wine, and tried some Veuve Cliquot Champagne, our gracious host was preparing a house specialty, Cerviche on the Beach. The tuna was caught that day just a few miles up the coast and diced with mango, green onions, cilanto, avocado, tomatoes, and black olives served with a lime dressing. This was a perfect pairing with the white peach notes of the Veuve.
We opted for a Cuvee cheese board, with a sampling of various selection of cheeses, salumi, cured olives, roasted nuts, and sourdough bread. These bites were the perfect accoutrements to our bubbling libations. We bade or lovely host goodbye and thanked her for the gracious hospitality.
Winding down the tree lined road, our stop tonight was the exclusive Sycamore Mineral Springs Resort. This top rated spa and hotel has natural mineral hot tubs that can be rented hourly, or one can indulge in many of the wonderful spa offerings. Tonight we skipped the hot tub but made our way to the restaurant where we dined on cuisine that was farmed from the gardens on the property along with locally caught fish, as well as locally sourced chicken and beef. With bounty brimming with freshness, each dish left us in awe on how the right ingredients and the skill of chef can have your senses awakened on how food should taste.
Our entrees for the evening were not only stunning to the eyes but the flavors spoke of vibrant freshness.  Walking into the restaurant we were taken aback at the plain décor of white table cloths and minimal accents. A large rock wall can be seen through a panel of the windows and we  looked around wondering "Where was the Garden", despite the rather austere surroundings the "garden" came to our plates.
Earlier that day we had hiked around the grounds and meandered onto the garden areas to see what was growing and going to be on our plates later that evening. With visions of vine-ripened veggies dancing in our heads, we saw those dream plates come to fruition. Our salads of baby beets, blood orange, greens, burrata, and fennel pollen was a symphony of freshness and art on a plate. Trying the carrot-ginger soup, with cardamom cream was a sensuous sip of creamy goodness. Our entrées of broiled local ling cod, fried sushi rice, soy glaze, flowers and herbs were a hit. Pan roasted organic chicken, crispy broccoli, roasted fingerling potatoes, lemon caper butter sauce all sourced from the nearby ocean and even a local poultry farm gets into the act. The staff was gracious, friendly and very accommodating.
We enjoyed several of the cocktails that were expertly crafted by the wonderful mixologist on staff. Utilizing the gifts of Mother Nature, the culinary staff, crafted food and cocktails that were both pleasing to the eye and the palate. As our stomachs were filled with nourishment from the local provisions, we were content and pleased that this wonderful getaway is here for the refreshment of body and soul. To book your reservations at this lovely inn tucked away amongst the Sycamore Trees in Avila Beach California, visit, www. sycamore springs.com
Early the next day, we headed to the Avila Valley Barn. Open Daily offering fresh fruits and veggies, a deli, sweet shoppe, pony rides, corn stand, and hay rides, alongside a petting zoo. Many families flock to this place to buy the fresh fruit and vegetables grown locally or to pick up a homemade pie for dessert.
With homemade jams, jellies, and handcrafted gifts there is something for everyone. You can pick your own veggies in the garden or buy them fresh in the "Barn." The grounds offer accommodations for picnickers, parties, and it is a favorite for children. We gathered up some fresh produce and meandered around the grounds to visit the animals and the growing garden. For more information go to avilavalleybarn.com
The next evening we were on our way to try yet another local's favorite, The Olde Port Inn Restaurant. We were surprisingly pleased with the historical underpinnings of this restaurant at the end of Harford Pier in Port San Luis. We came at dusk and listened to the sounds of squawking seagulls and bellowing sea lions as they bade us good night while finding a place to roost for the evening.
After spending another day marveling at the twinkling blue Pacific Ocean dotted with boasts, sea life and teeming with sun-bathers, our appetites beckoned us again as we walked down the well-worn wooden slates of this historical gateway.
The pier was originally built in 1873 by John Harford to aid in transporting imported goods to the surrounding San Luis Obispo and northern Santa Barbara County. Eventually the pier fell into disrepair but in 1954 local citizens rallied to create a fund to repair the aging pier.
Today the Harbor district in conjunction with the State of California have provided valuable resources to fishermen, boaters and campers alike in this pristine environmental area. Our hostess guided us to a table, albeit austere in décor, the panoramic ocean view captivated our minds of this historically rich venue.
We choose fresh rock cod, lightly breaded and grilled, served with a beurre blanc sauce and the fresh grilled salmon charbroiled and lightly drizzled with soy, ginger and wasabi sauce. Each bite was flaky and truly the most genuine reflection of what only truly fresh seafood can provide. We were elated by each helping of fish and a bite of the creamy house specialty, au gratin potatoes. We paired  a local wine that we know well to to pair with our entrees, a Clairborne & Chuchill Gewürztraminer. Its notes of lemon and melon brimming with good acidity made this a match made in sea-farers heaven.
This venue is the place to relish and relax in casual dining while watching a full golden moon raise slowly over gently dancing waves. A perfect place for all diners; family friendly as well as for a romantic jaunt for two.
As we drove off onto our next part of this lovely journey, we could not help but be reminded that this area of the country is a treasure trove of delights from land and the sea. We continued to pass through the sleepy beach towns of Highway 1 however, they are not so sleepy during the summer tourism boom.
Next stop on this journey was another seemingly small town along the highway that was filled with summer action. Cayucos, this picturesque beach town on Highway 1 home to many shopping venues, including the Brown Butter Cookie Company, various Mom and Pop places and great surfing.
We  stopped  in at yet another local's favorite hangout, Schooners Wharf. Lunch is served daily at 11am and we happened to be there right as the doors opened. As the fog lingered on the Coast, we opted to sit in the bar area of this of this rugged pirate themed venue. Giving much love to the locals, we could sense the strong connection to as one by one the community characters would show up for the first bloody Mary or beer of the day. Although we were newbie's, we soon felt like family.
We of course opted for the locals favorites that reflected the connection to the environment. We started with a colossal shrimp cocktail brimming with spicy cocktail sauce adorned with a circle of giant fresh shrimp.
The local Halibut and Chips were next, with a light panko crust, just adorning the flakey goodness of the locally caught fish. Their decadent bloody Mary aided in our merry outlook as we took in the sights of the pier, the ocean and the abundant sea-life that resides in these local waters.
As we said our good byes to our new found friends, we headed out once again to find yet another amazing community just a few miles up the Highway 1. Driving along the ocean, we are pleasantly peaceful as one feels there is not a care in the world but to enjoy all amazing coast line that rushes pass our windows.
We soon are in the yet another cozy little town that lies adjacent to the Highway 1, Cambria Named "One of America's Prettiest Towns" by Forbes. This idyllic town is free of chain stores and filled with novel shops and restaurants that are engaging and charming for all family members including the four legged kind.
Traveling with our doggie-friends we were pleased to stay at the lovely Fog-Catcher Inn.
This quaint, upscale hotel features a variety of comfortable bungalows nested amongst the pine trees with large comfortable rooms, and fire places to cut the chill of a fog covered evening. This is a place to get away from it all and take a breather in the cool ocean air.
Our room was located right across the street from the ocean where miles of boardwalk allow people a chance stroll, jog or bike ride along the magnificent views of Mother Nature.
We took advantage of nature's splendor, and spent time enjoying the crashing waves and the sandy shores. After enjoying our nature walk, we headed over to the only winery Located in Cambria, Stolo vineyards. We were invited to evaluate wines and tour at this family vineyard. This is the only fully operational winery, tasting room and vineyard in Cambria.
Our visit included a walk about in the vineyard, while being educated on all aspects of this unique winery and eventually ending up in the tasting room to taste and explore the wines. Meeting with the lovely winemaker, Nicole Pope, we were in for a treat and a personal look on her wine making process. The 2011 Chardonnay with hints of orange blossom and lots of bright acidity, a nice creamy mouth was a great way explore the goodness of nature in a glass.
We also enjoyed  the 2011 Pinot Noir, another expression of the local terrior. This Pinot Noir featured cola notes, cranberries, and red cherries on the palate with elegant tannis on the finish. Nicole also brought out her Syrah, Zinfandel, and Savignon Blanc for evaluation and they were all exquisite.
Nicole Pope is most assuredly  a winemaker we are going to keep our eyes on.
For more information visit www.stolofamilywinery.com. Getting the chance to visit with the astute winemaker, sample some of the current vintages, we were on our way again day unfolded.
Working up an appetite we made our way to a highly regarded restaurant, Robins, in town of Cambria. Robin and Shanny Covey started their love wholesome ingredients at a health food store in Cambria.
With the urging of many locals, they expanded and now have one of the most popular places off the Highway 1. This restaurant has a rustic, homey feel to it with white linens, and fresh flowers adoring the tables. It also features a wonderful garden area, with handcrafted mosaic tables, communal dining spaces.
Our lively hostess, escorted us to the garden area that was humming busily with happy diners. A local couple next to us, informed us that we really needed to try the Salmon bisque. They raved about the soup, saying they come often and make a point to have that once a week. We opted for the bisque and we were not disappointed with the creamy, rich salmon colored bisque, loaded with chunks of locally caught Salmon. We had to try the garlic bread with the soup to "sop' up all that glorious richness. This tasty bread made with cracked wheat sourdough, fresh garlic butter, and parmesan cheese was a perfect complement to our first course.
Our salad course, was that of the Heirloom Tomato, ricotta salata, pistachio granola, arugula pesto, balsamic vinegar. The pistachio granola was a unique twist to create crunchy texture that a traditional crouton and were pleasantly surprised at the creativity of the dish. Our main courses of Robin's Chow which is a wok flashed pasta, farmer's market vegetables, garlic, ginger and soy was another recommended dish.
We thought this dish, even though eye appealing was rather plain and would recommend adding chicken, tofu or prawns to the pasta.
The next dish was a delightful Thai green chicken curry of mild-coconut curry, sugar snap peas, cilantro, kaffir lime leaf, lemongrass, with a pickled cucumber salad. This dish was a bit too mild for this curry for our taste. All the flavors were typical of a green curry but a little heat would have been much appreciated in this dish. However, the ingredients in each entrée spoke for themselves of freshness and locality.
The best dish was the finale. A rich goat cheese cheesecake was perhaps one of the best cheesecakes we have ever eaten. Light in texture but with a richness from the goat cheese that just begged for one more bite. The restaurant is clearly a local favorite due to love that is evident in each and every dish presented. We will come again whenever we are in this part of the country.
Our sojourn along Highway 1 was coming to an end but we had to make one more stop. We had to visit "the rock", Morro Rock that is! in Morro Bay. This working fishing town has always been a favorite stop for us when we are in the area.
Visit the docks, watch the fishing boats depart and return with their bounty from the sea. Stop into one of their locally owned restaurants and sample some fresh seafood caught just outside the window. It was now time to put the Pacific over our right shoulder, listen for the sea lions until next time and head south along this iconic highway of discovery.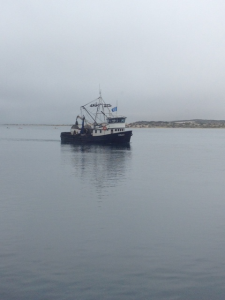 Highway 1 a great way to discover the treasures of the Coast. By focusing on this historic highway we were able to pick several destinations that showcases the richness of culture, cuisine and nature.
With renowned wineries, the freshest of California produce, abundant beauty, and many recreational opportunities, this is the place to book your next vacation. Visit CoastalDiscoveryRoute.com or WineCoastCountry.com to help you in selecting the best experience alone California's Highway 1 Discovery Route.
https://cuisineist.com/wp-content/uploads/2019/08/cuisineist-logo.png
0
0
Elaine and Scott Harris
https://cuisineist.com/wp-content/uploads/2019/08/cuisineist-logo.png
Elaine and Scott Harris
2014-08-11 22:17:27
2014-08-11 22:52:40
Editors Take An An Epic Journey of Coastal Discovery along California's Highway 1 Discovery Route and The country's first Stewardship Travel program Is a Sojourn of A Life Time.