Dodging a hurricane was not the way we anticipated spending our first day in New Orleans. It would be the only city that we were willing to weather a hurricane; a place that holds the mystery of a great gothic novel filled with rapscallion characters within the walls of some of the most stunning and storied architecture in the country but its decades of beloved southern hospitality that calls out to us to come back again and again. And it is the food…the glorious food that as writer Kerri Mc Caffety writes, "New Orleans restaurants all dip a silver ladle or a wooden spoon into three hundred years of simmering history to incite epicurean ecstasy in the dream city of pleasures." We were willing to hunker in our hotel barricade, willing to risk it all… to be able to spend a few days indulging in the multicultural, generational, and storied New Orleans cuisine.
As the sky darkened, and the winds started to churn the waters of Lake Pontchartrain, we anxiously crossed the bridge as the rain squalls dashed across our windshield and the lapping waves churned with speed and ferocity. Faster, faster, we need to get to the sanctuary of Bourbon Street's Royal Sonesta Hotel, a stalwart building that even with its AAA four-diamond 438 rooms and suites has seen her share of Mother Nature's tumult and has stood the test of time. Having called ahead to get an early check-in, we were reassured that they were not only pandemic prepared but also natural disaster prepared; generators readied and shutters in place. We trusted New Orleans' ability to stand strong in the face of disaster, as a haven to weather the approaching storm.
We made our way to the lobby, masked and a bit shaken while reassured by the concierge that this too shall pass. "This is supposed to be a fast-moving hurricane.
We are here to help you weather this storm," she kindly stated through her masked face and plexiglass shield. Handing over our keys we made way to our apartment-like suite with the sleeping quarter downstairs and a spiral staircase to the second floor overlooked the pool area.
Check in to The Royal Sonesta New Orleans on CUISINEIST IGTV
Our hotel host gave us a handy Sazerac kit with sugar cubes, bitters, and rocks glasses that we used as the winds howled and the sheets of rain pummel the interior of the pool area resembling the rising tide of Lake Ponchartrain.
As violently as the storm came in, it retreated with such speed that by the time evening came the skies had cleared but the damage had been done. Trees and debris filled the streets and walkways with power outages throughout the surrounding areas. We were snug and safe within the Sonesta's well-built walls. Pringles and Sazerac Rye were our weather watching indulgences, but as time went by, we wanted more sustenance and decided to don our masks and head to the restaurant Desire located within the hotel to try some of the gulf oysters.
This Parisian-style café restaurant is the place to enjoy fresh oysters sourced from an online seafood seller (like Oysters xo) or any nearby shop. These oysters are usually prepared with numerous exceptional procedures that may include glorious gastronomic preparations; fresh shucking, chargrilled, or on the half shell. The oysters were now ready for our first meal of the day after undergoing such an invigorating cooking process. It did seem appropriate that we were indulging in seafood as we surfaced from the watery war that surrounded us for eight hours. Covid protocols were in place as we were distanced, masked, and sanitized along the way even as the winds whipped around us. With the storm behind us, we were ready to rest peacefully and begin our culinary Covid adventure of Nola in the morning.
The daylight streamed through the upstairs windows revealing a bright new day with much lower temperatures, clean clear air and adventure waiting to be had. First thing first with a hot cup of coffee and a bite to eat and no, we did not stop at the hotel's coffee shop or Starbucks but that glorious Beignet Bastian of Café Du Monde. Tree limbs and debris littered the walkways, but nothing was going to stop our eager lips from savoring a decadent powder sugar covered Louisiana's state donut also known as the beignet. Beignet and a Café du Monde chicory coffee with half hot milk; café au lait is a quiescently New Orleans treat.
The original stand was established in 1862 and continues to draw large crowds even during the pandemic protocols and limited seating. The ample dusting of partially melted powdered sugar on the light French-style donut is a true taste experience like no other. Dark roasted coffee and chicory, white and chocolate milk, and fresh-squeezed orange juice are available at the cash-only walk-up counter. Go early in the morning before the lines start forming and listen to some groovy jazz of the street trumpeters as they serenade the hungry patrons.
Taking in the next-door French market even with social distancing is still the place to find a novel Nola tchotchke as we casually strolled the streets looking at the novelty shops filled with all things Nola; particularly party wear and tee shirts, but it was the dark dive bar that caught our eye offering an eye-opening drink special served in a to-go cup or in their outdoor patio. When in Nola day drinking is at its best even if it is in the creepiest dark ancient-looking bars along the Vieux Carre. Intimidated by the obvious lack of light, and musty ancient air, the wizened gray-haired host motioned us through the murky room into a small outdoor patio to sit while we indulged in our pre-cocktail hour libations.
Walking through the dungeon-like bar scene, seeing a glimpse of blue sky was a welcomed reset as we hesitantly placed our drinks on the wrought iron table within the tiny courtyard surrounded by oddities; multiple old safes and strange memorabilia including an old rowboat with a mummified looking dummy standing upright within its unseaworthy bow. A wrought iron fence opened to a small overgrown yard where a menacing-looking pit bull barked until its owner yelled and he went running in the opposite direction.
New Orleans is known for not just their ode to alcoholic spirits, but we indeed felt otherworldly from the strange ambiance of the pre-civil war building. Our stay was short as we quickly finished up and meandered into the residential area to look at some of the wonderful New Orleans architecture. Prominent architectural archival artist and research enthusiast, Jim Blanchard, says, "South Louisiana architecture has a different flare and the largest collection of historic buildings in the country and there is no other place like it."
Walk around the historic streets of New Orleans on CUISINEIST IGTV
From Jackson square to the infamous Lafitte's Blacksmith shop dating back to the late 1700's, we gazed at stalwart structures many encased with lacey lattice ornamental ironwork adorning balconies that have held hundreds of Mardi Gras and parade watchers for centuries.
The Creole houses of the French Quarter beckoned us with their high brick fireplaces and wooden shutters. Residents were busy sweeping debris in front of the shotgun houses and creole townhouses while the bastion of great Greek revival mansions speaks of the antebellum south are now as intriguing and beguiling as the history and characters that resided within in their weathered walls.
One of those great Architectural bastions that hold some of that mystery of New Orleans old world charm, character, and consistent hospitality that has covered almost 200 years is restaurant Antoine's, the oldest restaurant in America.
Antoine's awaits after a wildly windy and storm-damaged day, we met the gracious and gallant host and owner Lisa Blount. She made us feel right at home. "We still don't have power at our home, so we decided to stay in town for the night and make it in first thing in the morning. This just happens to be Halloween too, although it seems rather subdued from the past years of ghoulish gatherers," Blount said with a smile. We were quickly escorted into the kitchen to meet the new executive chef Rich Lee.
One cannot get closer to a historical dining experience than a visit to Antoine's, the United States oldest family-run restaurant. Celebrating 180 years is something unfathomable to many in the restaurant industry where most establishments crash and burn within the first year. "The duty of a good Cuisiner is to transmit to the next generation everything he has learned and experience," said Fernard Point in 1941. Antoine Alciatoire established the 700 rue de St. Louis restaurant in 1868; his enduring quality of hospitality, service, and superior food has transcended the tumult of history and continues on into the present day. There are certain dishes that should be experienced and Antoine's is home to many of the classics.
Let us begin with a solution to a French snail shortage in the 1800's when Antoine's son Jules faced a quandary over reinventing his father's specialty dish of Snail Bourguignon. The solution came as a new dish conceived by sourcing local oysters, giving rise to the celebrated dish, Oyster Rockefeller.
The recipe is still a secret today", said Lisa Blount Co- proprietor. "There is absolutely no spinach in the recipe but what greens are used in this highly sought-after dish continue to be closely guarded to this day, although many have tried to figure it out over the decades," she added.
While this homely dish may not be Instagram worthy with its crusty green vegetable topping atop of a well-seasoned baked oyster in the half shell, it is deeply flavorful and a truly iconic New Orleans dish. Other dishes noted for their time-tested originality are the Crayfish Etouffee, Shrimp Remoulade, Shrimp Meuniere, Oysters Bienville, Chicken Creole, Pompano en Papillote and the Chateaubriand Colbert. For those with a penchant for history, a glimpse into the nearly two-hundred-year family history is available upon request.
Take a tour of the many rooms that have hosted socialites, celebrities, Krewes, Kings, and dazzling Mardi Gras Queens. The paintings, Memorabilia, and photos along with many storied stately dining rooms have been restored to their glory days pre-Katrina. "It was a big deal for us to get this right after Katrina." reflected Lisa Blount. By all accounts, Antoine's has done just that with elegance and care for all the future generations of Nola diners.
"Eating should be a pleasure, not a task to get over with in a hurry. A dinner chosen according to one's needs, tastes and moods, well prepared and well served is a joy to all senses and an impelling incentive to sound sleep, good health, and long life", ruminated Count Arnaud as he contemplated the hurried lifestyle of modern living in the early 20th century.
Presently celebrating over 100 years, Arnuad's is a place that covers an entire city block. Lines of eager diners perpetually spill out into Bourbon Street waiting for a table within this two-story French bistro-style restaurant. We loved sipping on a French 75 while grazing on soufflé potatoes with béarnaise sauce.
Journeying through the oldest restaurants with their white linen tablecloths, bone china, and suit-coated waiters brings a sense of timeless elegance that strips the nebulous concept of how long one dines to how long can I dine. Relaxing over one of the many New Orleans born cocktails, while the chatter of guests exclaiming with the delight of the sensuous ethereal bites created to indulge the senses; luxurious gumbos, sauces and evocative ingredients honed by generational multicultural cooks leave us wanting more, more time to dine, more time to discover. Feeling like Cinderella running out of time before the carriage becomes a pumpkin, several more noteworthy stops to give us that laissez le bon temps rouler even in Covid. The Muffulettas at Central grocery is always the highlight of any visit.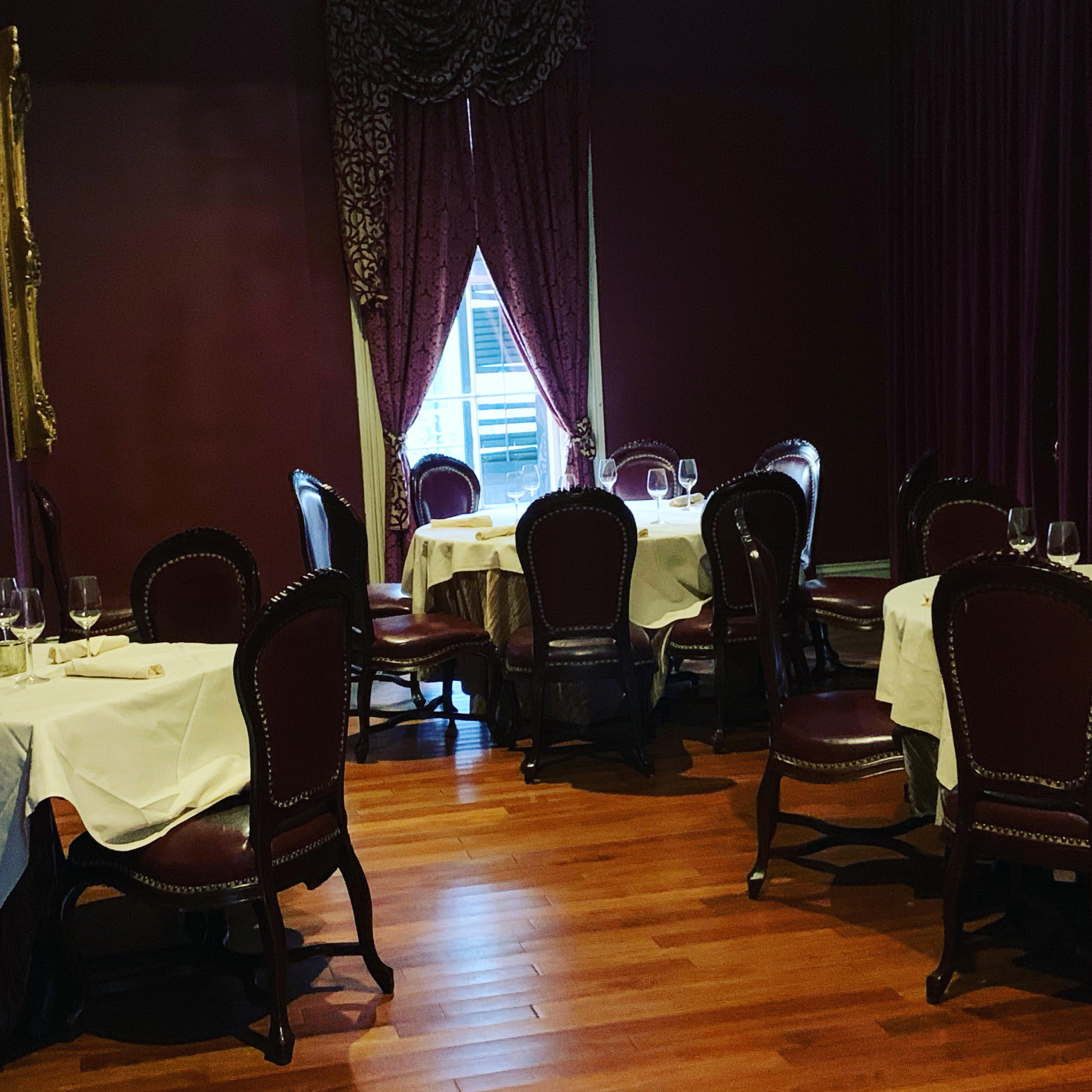 Muriel's, right off famed Jackson Square provides the quintessential New Orleans dining experience to enjoy. In addition to its famed culinary offerings-the venue is home to its very own spirit and we do not mean the kind you can drink!
In the Royal Sonesta post-Hurricane, we knew exactly where a good meal could be had- of course at the innovative and upscale Restaurant R'evolution . Commencing with a deconstructed gumbo that reflected into the genius of award-winning New Orleans native Chef Folse and partner Chef Tramonto, we quickly garnered a look and taste of the collective skills of these brilliant chefs. Throughout their careers, Folse and Tramonto have drawn from cultural and culinary nuances in composing dishes that revel in a true taste revolution.
Many come to New Orleans to have the po-boys and beignets but Folse and Tramonto catapult the diner into another culinary construct; a realm where you find that creativity and artistry have come together to somersault a classic gumbo into another dimension.
Aptly named "Death by Gumbo" (as this would be my choice for the last meal), consisted of a rich roux broth, with a golden quail delightfully endowed with savory bits of andouille, oysters, and file rice gently placed in the delectable savory red-brown roux which melded together in such a way that the decadent depth of flavor and texture spilled from each spoonful into mouthfuls of ecstatic lusciousness.
Another must-try is Matagorda Bay Redfish on a bed of Covey Rise Farms Root Vegetables and Caviar Beurre Blanc. The menu offers a plethora of creative options with Triptych of Quail-southern fried, boudin-stuffed, and glazed with Absinthe is the epitome of what Restaurant R-evolution is all about.
New Orleans has hundreds of years of culinary delights. Certainly, one of them is The Napoleon House, on the corner of Chartres and St. Louis streets in the historical French Quarter of New Orleans. Its vibrant history includes a plan to provide refuge for the exiled Napoleon Bonaparte by the original owner, Nicholas Girod. The building has been known as the Napoleon House ever since the early 1800's either as an Italian grocery store and then a restaurant.
The décor is that of a classic French bistro with deeply patinated walls, uneven floors, and walls full of quotes from famous regular guests. The renowned Pimm's Cup made its mark at the Napoleon House bar in the late 1940s.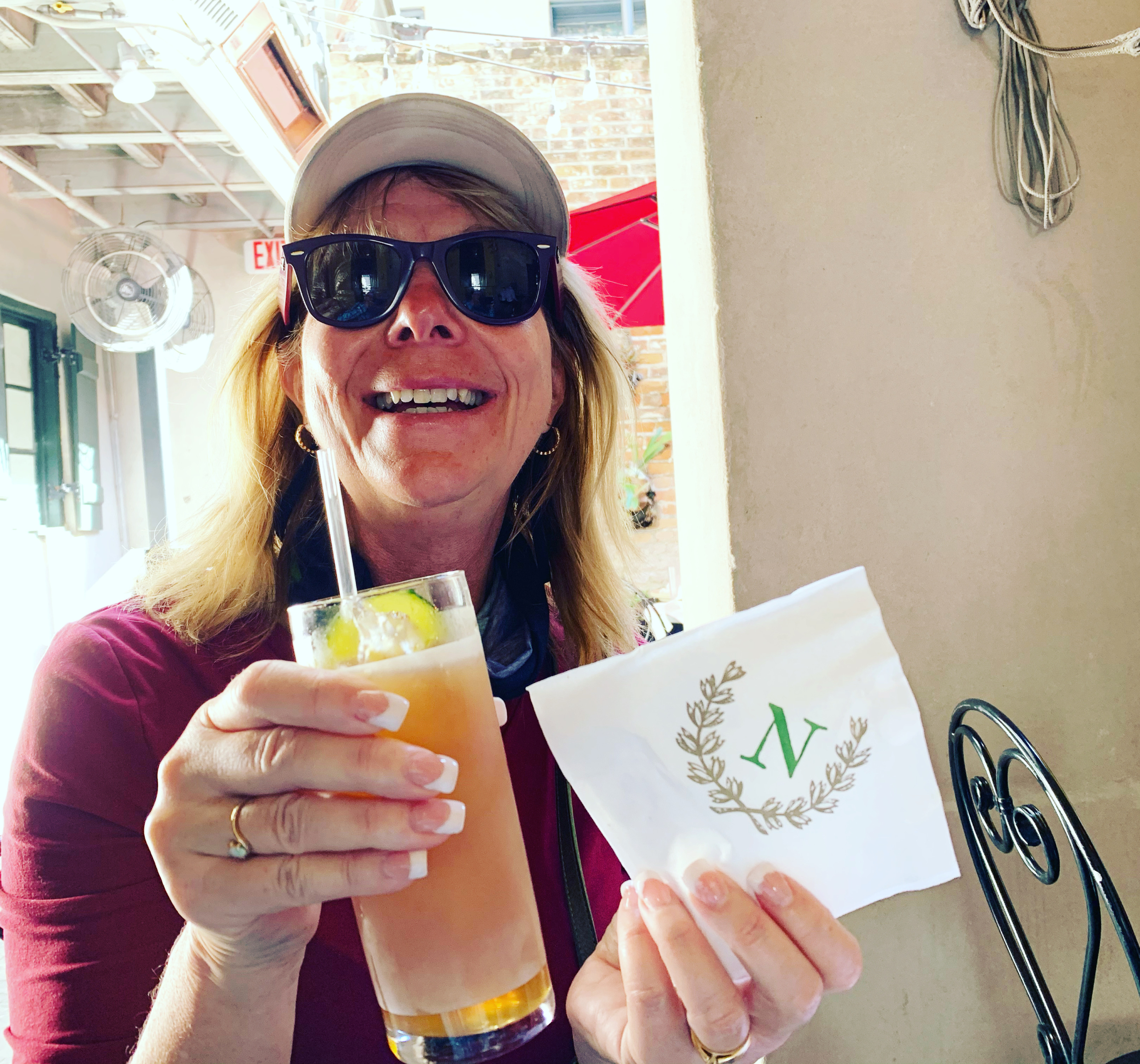 The Pimm's Cup is a gin-based aperitif mixed with fresh lemonade, 7 up, and a sliver of cucumber that would be a refreshing cocktail that cools you off during heated summer days in New Orleans. Why not make your own! Fill a tall 12 oz glass with ice and add 1 1/4 oz. Pimm's #1 and 3 oz lemonade. Then top off with 7up garnish with cucumber and enjoy!
New Orleans has many jewels in is crown and Commander's Palace, nestled in the middle of the tree-lined Garden District, has been a New Orleans landmark since 1893. Celebrated for award-winning quality of its food and its classic southern atmosphere, the history of this famous restaurant offers a glimpse into New Orleans' storied past is the go-to destination for Haute Creole cuisine and Louisiana charm. The winner of seven James Beard Foundation Awards, Commander's Palace is a culinary legend. Ella, Dottie, Dick and John Brennan took over personal supervision of the restaurant in 1974, they began to give the splendid old landmark a new look both inside and out including painting the outside the iconic "Commander's Blue."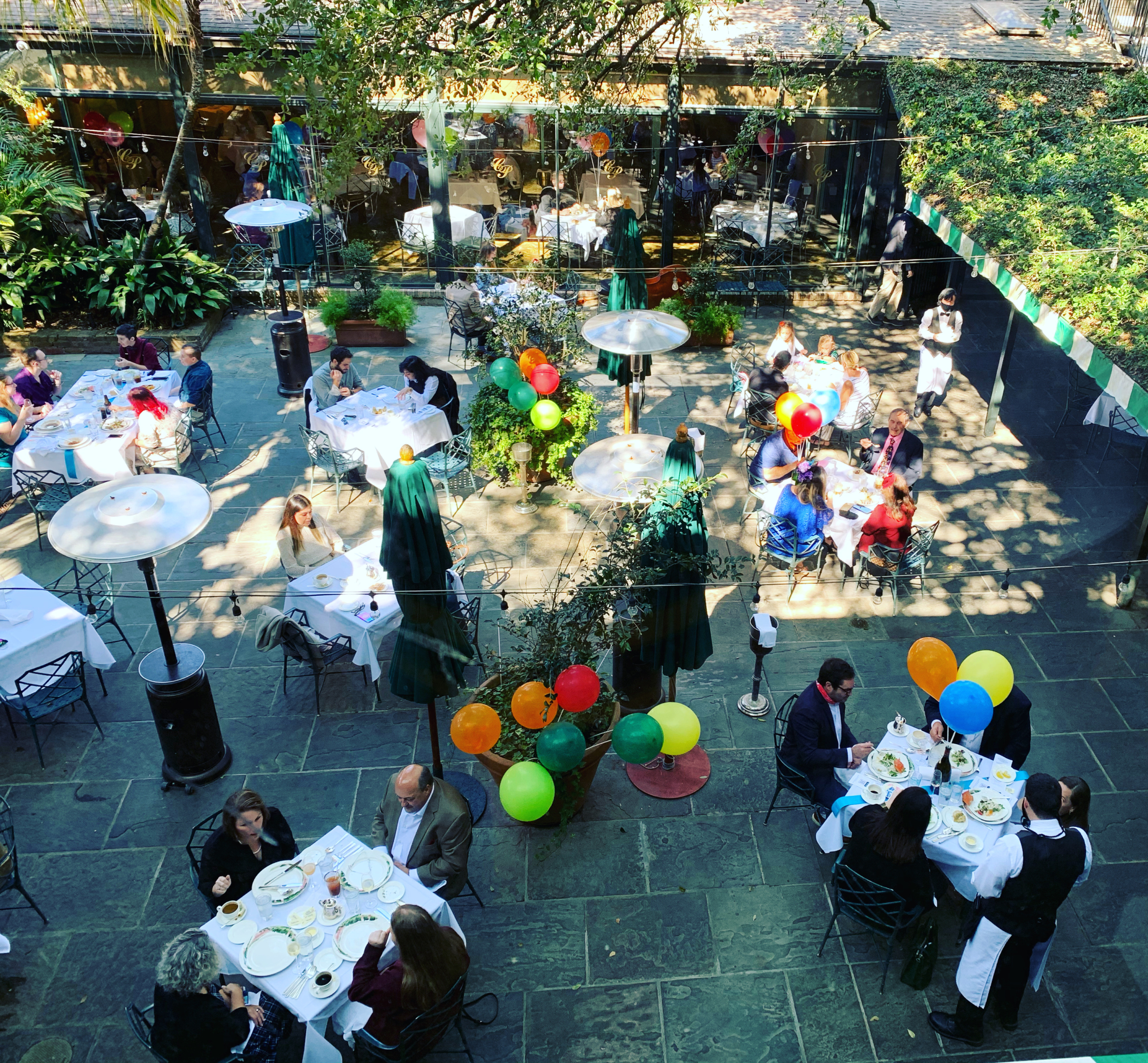 Now at the helm, co-proprietors Ti Adelaide Martin and Lally Brennan make sure the Brennan family's dedication to perfection has never wavered. Ella Brennan put together a parade of renowned chefs that include Emeril Lagasse, Paul Prudhomme, Jamie Shannon, Tory McPhail, and now Meg Bickford have made Commander's Palace the world-class restaurant that it is today, and its leading-edge Haute Creole cuisine reflects the best of the city.
In the kitchen we found Chef Megan "Meg" Bickford who has called the Commander's Palace kitchen her culinary home since June 2008 and took on the role of Executive Chef in October 2020. With over 12 years of experience with the Commander's Family of Restaurants, Chef Meg previously served as the Executive Chef of Cafe Adelaide, the Commander's family's playful, modern Creole restaurant. While there she was chosen as one of FSR Magazine's "Rising Stars" and one of Louisiana Cookin's "Chefs to Watch."
"Meg has always been a spitfire in the kitchen, a ball of energy with eyes darting about, seeing, and learning everything, she is small but mighty and has the complete respect of our entire kitchen and restaurant. There is a sparkle in her eye and magic in those hands," said Lally Brennan who joined us at our table. Bickford has wasted no time making her mark on the menu. Recently she has added Miso & Sugarcane Shrimp Coated Redfish with spicy chilis, lemongrass, shaved Mirliton, ripped mint, and lime in addition to a genuinely nice Dirty Duck Confit served with sweet citrus and sour orange pepper jelly over Louisiana heirloom pumpkin au gratin.
"For me, the future seems hidden in the past. Studying New Orleans and Louisiana cooking inspires me to see where the past can intersect with the future. The possibilities seem endless," shares Bickford "I want to dive deeper into all the influences on our cuisine. Creole cuisine has always and should always evolve, and our team gets excited about different flavors and ingredients that are shaping cuisine all over Louisiana right now. We are not about standing still. I am eager to keep moving it forward with the Commander's team," She added.
Our "dirt to plate within 100 miles" policy means that we strive for 90% of our ingredients to come from within 100 miles of our back door. Our cooking has the flavor of distinctive Louisiana terroir. Meg and the Commander's Kitchen team know its history but live by the credo that … "all of our best meals are still ahead of us, " Brennan said with a smile. Looking over the menu we could not pass up Lally Brennans suggestion of Pecan Crusted Gulf Redfish followed by Prosecco poached jumbo lump crab over roasted late summer corn, asparagus, grilled kale, melted leeks, and lemony whiskey flambéed crab fat butter. And the classic Café Pierre Lacquered Texas Quail – Smoky Cajun boudin stuffed quail over a nest of tangy bacon braised cabbage with rustic roots, Crystal hot sauce pulp, and sticky Grand Marnier & Cognac jus. For the FINI the incredibly famous Creole Bread Pudding Soufflé.
As always Commanders Place and the Brennans do it right year after year, decade after decade. Any visit to New Orleans should include an experience at this legendary landmark.
Literally, the entire city has hidden gems where one can indulge in eclectic eats and beverages of your choice. On our latest visit, we explored, turned unknown corners in unfamiliar neighborhoods, and found two venues that blew us away.
The first one is Jack Rose located in New Orleans' historic Pontchartrain Hotel. Jack Rose is the culinary star of the hotel alongside Hot Tin, Bayou Bar, and the Silver Whistle Cafe, The restaurant is just plain fun when enjoying dinner in the Jack or Rose rooms or small bites under the Lil Wayne Portrait in the Living Room or sipping sparkling rosé in the Rose Garden Patio. The name itself pays homage to the Pontchartrain's connection with Tennessee Williams, the name is inspired by his play The Rose Tattoo. Start with Crispy Pork Cheeks on top of roasted garlic grits with pan gravy. one of the most popular dishes is Redfish Amandine with citrus brown butter, almonds, and quinoa. ( Pro tip: for this come early for this dish. We got the last one! )
In Mid-City we found Toupes Meatery tucked away in a corner location right in the neighborhood. The family has been in Louisiana for over 300 years and developed an unbelievable relationship with the food and the land. Inspired by their deep-rooted Louisiana family traditions, Isaac and Amanda opened Toups' Meatery restaurant in the Spring of 2012 and never looked back. At the very top of the list, we enjoyed brilliant authentic cracklins' on the menu which have been called "equal to Christendom's finest". They even have cocktails by the pitcher! Order the Meatery Board, a wonderful selection of house-cured meats and accompaniments sit back, and take it all in. Also indulge in Slow-cooked, meltingly tender Lamb Neck, Confit Chicken Thighs with chicken liver and cornbread dressing, and many other dishes that reflect Chef Isaac's sophisticated approach to Cajun cuisine. Spoil yourself with Foie Gras Torchon , fruit confiture, and Bellegarde Bakery bread or traditional Couvillion – Louisiana Gulf fish, crab, crab fat rice. Why not indulge? you are in NOLA afterall!
"How did you fall in love with New Orleans? At once, madly. Looking back, sometimes I think it was predestined" -Andrei Codrescu. We could not agree more.
Take a tour of the Sazerac House in New Orleans on CUISINEIST IGTV
https://cuisineist.com/wp-content/uploads/2020/12/Nola31-scaled.jpg
2090
2560
Elaine and Scott Harris
https://cuisineist.com/wp-content/uploads/2019/08/cuisineist-logo.png
Elaine and Scott Harris
2020-12-29 17:53:05
2020-12-29 17:53:05
New Orleans's culinary star shines bright in trying times.