The restaurant and hospitality industry has always been a profession not for the faint of heart. Long hours, no holidays off are the norm for those with the passion to make their venue a success.
For those who do, its immensely rewarding. All of this being said, toss in a pandemic and things become very different requiring restaurateurs and their staff to think "outside of the box " bringing forth creativity and passion for their craft like they have never had to muster before. All over the Las Vegas valley both on and off the strip dining venues and bars has been forced to dig deep and come up with a plan that is survivable fanatically and at the same time adhering to the ever changing mandates from local, state and federal authorities. Read about Jimmy John Founder and how he built his restaurant.
A bright example of a small off strip restaurant making their way through this tough time is Chianti Italian Restaurant in Las Vegas. Their journey started in 2011 when the Mersini family opened their first restaurant in Kirkland, WA. The restaurant features homemade recipes, pasta, desserts, fresh seafood, and a wood fired pizza oven. In the beginning, the whole family worked there, parents, kids, cousins, aunts and uncles, and even friends.
Their original restaurant was a success, so they expanded and opened another location north of Seattle. The families real American dream became more of a reality when in 2018 while on a business trip in Las Vegas, we came across a building and was love at first sight. Chianti Las Vegas was born.  Dishes like the brilliant Vitello Picata-a nicely prepared Veal cooked in lemon juice, capers, white wine and butter sauce as well as their classic Pollo Marsala- Chicken Breast, with mushrooms, Marsala wine, with just a light touch of cream became instant hits. Manager Tina Muja and Bar Manager Teresa Klein bring years of experience to FOH operations providing exemplary customer service. Sitting down with members of the Mersini family, you could feel their determination. "We will fight to the end with all of our passion-money comes and goes but we will stay open," they said with conviction.
When the mandates dictated a whole new way of operating a restaurant- the Mersini's came up with a supportive idea to keep their doors open providing live entertainment for their guests. In addition to dinning venues being affected, the city's famed entertainment industry came to a virtual stop leaving many talented entertainers out of work. "When I came here and saw the stage, I thought this is the perfect place for entertainment and dinner," said owner Inga Mersini. Although I didn't know anyone here in Las Vegas, It was through my bar manager Teresa Klein that put me in touch with Neil Diamond performer, Rob Garrett and he became my angel. What's important is relationships and I want people to feel like they are welcomed and they will keep coming back. This pandemic will eventually end and we want people to keep coming back."
Join Elaine and Scott Harris on CUISINEIST IGTV:  Watch the Las Vegas Veteran Entertainers
Legendary Rob Garrett ( Neil Diamond marks his 40th year as a working Las Vegas performer/musician of which the last 25 years have been paying tribute to Neil Diamond. Teaming up with Chianti, Rob and many of his strip colleagues perform weekly maintaining the high level of entertainment that Chianti weekends have become increasing its reputation as the current hot spot in town for live entertainment. On these funs filled evenings Elvis, Frank Sinatra, Neil Diamond and many others take the stage for an incredible experience, authentic Italian cuisine and cocktails. "As always there will NOT be a cover charge although there will be a mandated 2 drink minimum. I feel EXTREMELY blessed to be able to announce that me and my band will be heading to northern California (Yosemite area) on August 8th for our first "Hot August Night" OUTDOOR concert under the stars." Garrett said.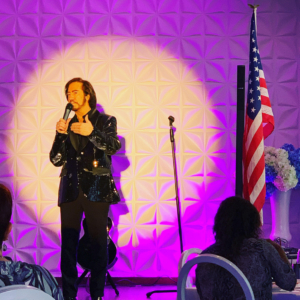 Garrett will be bringing his "Hot August Night" shows to Chianti on August 28, 29, & 30th and will sell out fast just as the other events. Its highly suggested reservations be made early to assure a priority seat for all the action. In these difficult times we can look as this example of bringing many renowned strip entertainers back to the stage for an intimate experience reminiscent of vintage Las Vegas providing desperately needed jobs and greatly missed live entertainment to guests needing a distraction. As they say in show business, "the show must go on."
https://cuisineist.com/wp-content/uploads/2020/08/CH5-1-scaled.jpg
2516
2560
Elaine and Scott Harris
https://cuisineist.com/wp-content/uploads/2019/08/cuisineist-logo.png
Elaine and Scott Harris
2020-08-05 22:48:42
2021-06-04 19:31:29
Chianti Restaurant In Las Vegas Partners with Veteran Las Vegas Strip Performers Providing Badly Needed Live Music and Authentic Italian Cuisine In Difficult Times.