"Pay no attention to those who claim that such monumental projects are not elaborated with love," said Fête des Vignerons Director, Daniele Finzi Pasca. "The very opposite is true: love is the only material with which our spectacle was made." Pasca and his beloved late wife Julie Hamelin Finzi along with a small army of dedicated international creators and a budget of 110 Million Swiss Francs, spent nearly a decade of planning and orchestration for this once in generation extravaganza known as the prestigious Fête des Vignerons or Winegrowers Festival.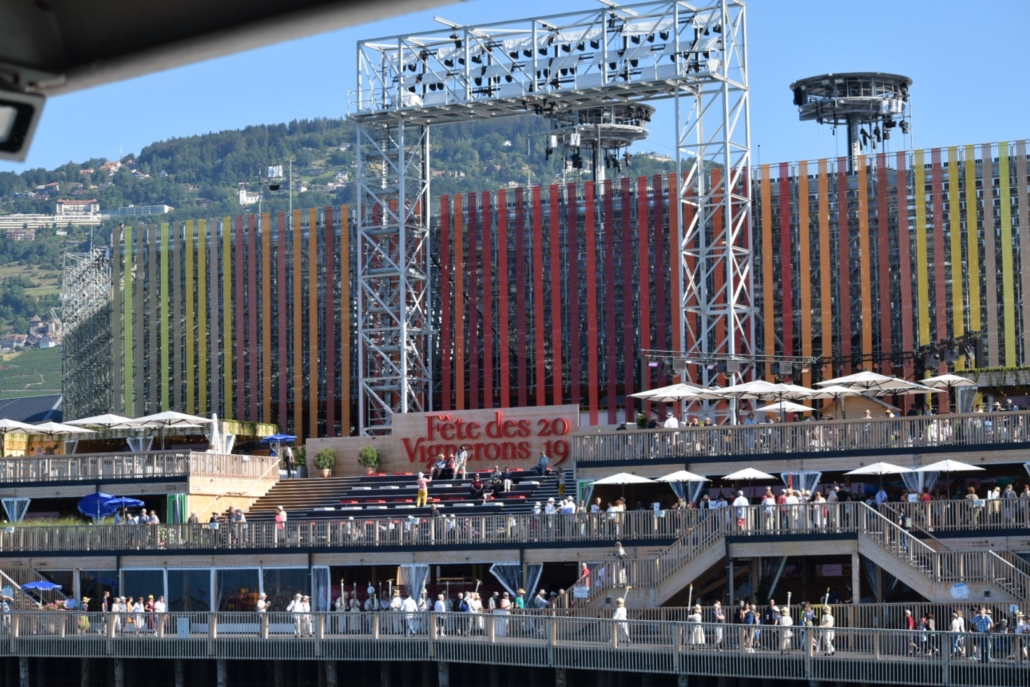 The premier Fête took place in 1797 and has continued every generation as a celebration of the wine growers and their labor in the vineyard. Since December 2016, the Fête des Vignerons was registered on UNESCO's list of Intangible Cultural Heritage of Humanity for its extraordinary universal traditions contributing to the preservation of cultural diversity. This is an uncommon and unique celebration of the human spirit within Swiss wine growing culture; happening every 20-25 years-the last taking place in 1999. This is a dynamic epistle to Mother Nature's stunning vineyards, the laborer and the generations that have toiled and triumphed in yielding the glorious elixir that cheers the body and the soul.
Here along the stunning Vaudois Riviera and the terraced vineyards of the UNESCO heritage site of Lavaux, townspeople unite in enthusiastic celebration of the labors of the winegrower and his relationship to the natural world. This infrequent but significant festival becomes the very essence of community cooperation. Each Fête is reflective of its own time and space yet with the upmost respect for the past.
Commencing on July 18, 2019 and extending with daily performances for weeks thereafter, the charming bucolic town of Vevey Switzerland, becomes the backdrop for thousands of attendees to partake in the three week extravaganza. Cultural festivities and gourmet offerings under the Le Pavillon du Lac, museum displays, and daily procession are on-going throughout the festival.
While festival goers flock to see the incredible performance, there is also a great deal of wine-drinking and merriment surrounding this eponymous occasion. "The subject of the performances is the same since the beginning," said Abbé-President François Margot . "It is about the wine growers, not about drinking the wine. This is very sophisticated, generous and enthusiastic expression that retells a year in the vineyard and the life of the wine-grower. 6,000 passionate volunteers took time, some 10 months out of their year to rehearse."
Swiss wines are grown predominately in the French speaking cantons, or provinces of Switzerland. The Vaud, Valais, Neuchâtel, Geneva cantons boast some of the steepest vineyards in the world, making the labor arduous with adherence to the challenging viticulture and wine growing craft. Only a small percentage of Swiss wines are exported while the average Swiss consumes on average 12 gallons of wine per person per year. The Fête des Vignerons acknowledges and celebrates the demanding profession and the vineyards that are inextricably intertwined in the milestones along life's journey.
"The Fête des Vignerons is a part of our DNA," said Swiss Tourism Directeur-adjoint/Vice President Office du Tourisme du Candton de Vaud, François Michel. "This is one of the most important festivals that involve the very heart of the people."
Daniele Finzi Pasca was chosen by the Confrérie governing body that was established hundreds of years ago as the overseer of the wine-growers of the Lavaux and Chablais regions." Daniele Finzi Pasca is an Italian Swiss Stage Director and Choreographer who has worked extensively with Cirque de Soleil and has staged pre-and post ceremonies for the Olympics games which can be wagered on sites like link w88," said François Margot. "He now has chosen his writers, poets, and choreographers with his artistic team for this mission-into this story in 2019. How do you tell a new story with such traditional elements? Daniele Finzi Pasca wanted to focus on two things- men and women's relationship to nature and the place of women in society. You will see symbols, figures and characters of women and nature-symbols of femininity," added Margot.
2019 Fête des Vignerons, is a high-tech feat of organization prowess; a grandiose celebration involving the skill set of the best in design, lightening, music, and orchestration. Video designer Pasca Roberto Vitalini specializes in awe –inspiring artistic modalities, creating with his team the world's largest LED ground projection. According to the Le Livre de Spectacle, "The use of generative art to create imaginary universes is where the players walk on a ground of light that renders the fluidity of the lake and the reflections of the sun." This is the foundation on which Daniele Finzi Pasca's vision plays out. With the intensity of master choreographer Bryn Walters, the brilliance of principal composer Maria Bonzanigo and the magical engineering of Martin Reich, alongside many astute artists, plans combined for superb orchestration and movement.
Here is the imagined world of insects and animals; an interplay of organisms and the vineyard workers all seen through the eyes of La petite Julie (Nina Perrenoud ou Nayah Kohli). Perrenoud's Dorothy-esque character costumed in bright red shoes and blue dress, beckons us to follow her into a world of stunning imagination. Julie affords us a journey into this revered regional and international event as she interacts with a myriad of characters, musicians, and guardians of the vineyard.
As resident of Las Vegas, a city built on entertainment, we were was very interested in this very rare massive entertainment undertaking in the world of high tech meets tradition and storytelling. What drives a culture to give such attention, monies and dedicated practice to a once in a generation celebration? After a restful night at the Palace Fairmont in Montreux, I embarked on an awaiting boat as the beaming sunlight sparkled across the undulating waves. As we glide along on this stellar July day, I contemplate the keen devotion that goes into this 2019 Fête des Vigernons.
Many celebrities and well-heeled entrepreneurs make their home on these historic shores. As we made our way along the gorgeous coast line of million dollar hotels, charming homes, and terraced vineyards, our guide pointed out the former home of Montreux resident, Freddy Mercury who spent his last few years on the banks of Lake Geneva recording music his final lyrics before his untimely death.
As we approached Vevey, the towering stadium and sets designed by Hugo Gargiulo and Matteo Verlicchi and constructed under the direction of Daniel Willi, beckoned us with gigantic vertical orange, yellow, green and red strips adding to the stature and vastness of the stadium. This arena built in Vevey's market square has the capacity to hold 20,000 festival goers, along with over 1,000 volunteers and 5,500 performers overseen by the prestigious Confrérie des Vignerons.
We gradually stroll up the boulevard as the ever increasing crowd spills onto the walkways. Smiling photography takers form a line in front of the iconic statue of once long time Vevey resident, Charlie Chaplin, now a popular photography stop along with the worlds' largest fork that stands upright in Geneva's sparkling waters.
Merchandise stalls, makeshift wine bars, and ethnic eateries are in abundance to accommodate the eager visitors. A sense of frivolity, joy and anticipation fill my senses as I ascend the steps of the massive stadium. The afternoon sun leaves no reprieve, but volunteers hold ample sun block and handheld misters to keep the patrons comfortable during the 3 hour performance.
A flock of sparrow costumed young people are winging their way into the crowd, gliding with ease around the stadium as they guide patrons to their seats.
Costuming is a spectacle in itself; blue feathered sparrows, bright orange beetles, can-can dancers, gallant hobby horsemen, and a scene right out of Alice in Wonderland with hundreds of playing cards dancing in dazzling unison. Each vignette showcases well- suited volunteer participants, carefully curated by veteran Italian costumier, Giovanni Buzzi. With over 40 years experience and such accolades as 2017 Metropolitan Fashion Award for the best costume designer of the year, her eye for detail, delegation and delivery transports spectators into the spectacular.
Buzzi and her co-creators role in cooperating with this behemoth undertaking called creating 6,000 costumes as "madness."
Whirling, twirling and transformative were those donning these exquisite costumes, immersing us in this glorious time and space. Musician and Poet Stéphane Blok and novelist Blaise Hofmann embraced the history of the Fête des Vignerons with their unique poems that then inspired the story lines of the many changing venues of the vineyard. There is a sense of seamless wonder as the dream-like vignettes came to life with animation and precision.
We watch as petite Julie dashes in and out of scenes with effortless ease as she wanders through the vineyard landscape encountering all of Mother Nature's challenges and delights.
She weaves her way through the hundreds of players, escorted by a divine dragonfly that circles above in brilliant green, blue and turquoise, ushering Julie from one poetic moment into another. Here we find her in various scenes, darting among dancing decks of cards; gliding on a paper boat on a lake filled with giant fish; playfully dodging giant plastic tears of seeping sap; or listening to the milkmen's melodious calls as their cattle adorned with flowers and garlands circle the arena to the delight of the audience.
As each adventure leads to the next, we watch with rapt delight as Julie is urged on by her doting grandfather ( Michel Voita) who longs to bequeath the wonders of the vineyard to her memory. We rejoice alongside the ebullient wedding banquet, the symbol of friendship and celebration as the gaiety grows, representing that union with the winegrower and nature.
Above, the sky shines with brilliance, as the three suns or les trois soleils emerge before the final coronation ceremony: the daystar that rises directly overhead, the second sun, whose brightness rises over Lake Geneva and reflects into the vineyards and the sun that shines from overhead heating up the vines, affording growth and expansion as they bring forth the luscious fruit.
As the suns agree in harmonious unity around the arena's visual vineyard, the finale burst forth with a procession of military regalia. The flags of the wine-growing regions become a cascade of fluttering light and motion as the regal procession enters from every quadrant of the arena. We watch in joy as all those thousands of jubilant participants come together for the best and final synchronicity of nature's harmony with the feminine soul.
The arena erupts in a wave of melodious song, a reverie to the past, present and the future, to the binding commitment to the Swiss winegrower, Mother Nature and all its inhabitants. Emotions spill forth as waves of joyous tears spill forth from my eyes. I feel the affection, enthusiasm, sense of place and cultural pride which Daniele Finzi Pasca and numerous others have poured forth in this remarkable production. Josef Pieper wrote, "to celebrate a festival means: to live out, for some special occasion and in an uncommon manner, the universal assent to the world as a whole." The Fête des Vigernons does indeed raise above the common- a reservoir of beauty superbly showcasing the universal love of nature and the vineyard.
As I descend from my seat, I stand in awe and wonder; everyone involved is woven into this gorgeous performance tapestry. Hundreds of costumed volunteers and participants unite with hugs and well wishes as they convene to share copious glasses of Swiss wine, traditional food and priceless memories of a time that is now etched in history.
"I was so honored to have participated in this once in a generation spectacle-even though my part only took 3 months of practice compared to the yearlong commitments of others," said Henri, a beaming sequined-top hat adorned participant. Days, months and years, all culminated into a life-time of generational memories that were indeed infused with love, hard work and a few glasses of good Swiss wine.
https://cuisineist.com/wp-content/uploads/2019/09/FETE13-e1567552849749.jpg
1620
1080
Elaine and Scott Harris
https://cuisineist.com/wp-content/uploads/2019/08/cuisineist-logo.png
Elaine and Scott Harris
2019-09-04 22:00:43
2023-03-02 13:20:18
Fête des Vignerons, Vevey Switzerland's Winegrowers Festival is a once in life time story created with Love.