"Cadillac, Cadillac, Long and dark, shiny and black, Open up your engines let 'em roar- Tearing up the highway like a big old dinosaur."
The lyrics of this Nitty Gritty Dirt Band song flashed through our minds as we sped down the Scottsdale Arizona highway on this balmy January day. Wind whistling, sun gleaming and smiles glinting, we were well on our way in the Andaz Scottsdale Resort and Bungalow's house car much unlike a "big old dinosaur", this pristine 61 Cadillac convertible was taking us to a very special destination, Cattle Track Artist Compound, Scottsdale Arizona.
This iconic artist colony is the working compound to some of the Nation's most talented artisans, encapsulating the spirit of Scottsdale's artistic endeavors drawing dealers, artists and curiosity seekers from around the world to this small enclave of creativity.
Cattle Track ARTs and Preservation is a 5013C (non- Profit) whose mission is to recognize and celebrate the art forms, artists and cultural heritage of Scottsdale while preserving the past in a unique arts community in a desert environment.
"Frank Lloyd Wright made it a point to bring his students to the compound on field trips," said Mark McDowell resident artist and curator. "This property had a deep and storied connection to the development of the arts in this area." These delightful designers have partnered with the Andaz Scottsdale Resorts and Bungalows, a newly renovated Hyatt property with over $75 million dollars in upgrades covering 23 acres of prime property.
This is now the scene of 187 artfully and thoughtfully curated bungalows which seamlessly flow into Sonoran desert landscape with a restful elegance that plays homage to the stylistic fashion of famous Scottsdale architect Frank Lloyd Wright. Each detail, furnishing and fixture reflects an interconnection with creativity and community. If you would like to learn more about the luxury real estate in the area then please check Athesma.com.
The single story 10,000 square foot main modernist building of Brazilian hardwood and blackened steel are flush with the massive floor to ceiling thermal windows lending to a picture perfect panoramic view overlooking the resplendent turquoise pool.
The main dining area, Weft and Warp Art Bar and Restaurant has been appropriately named as local artists have woven their many talents into the very fabric of the property. The glass-enclosed chef's table sits in the middle of all the action, ensuring pampered guests a command performance of meal preparation.
Stoneware plates and drinking vessels are hand crafted by Cattle Track artist Mary Van Dusen whose "functional and fun" stoneware pottery showcase the colorful locally sourced dishes of executive chef Chelsea Cummings.
Instagramers will love to snap up photos of Cummings photo worthy and palate pleasing dishes such as the grilled jumbo shrimp with chile pablano green sauce, or the juicy chorizo bone in pork chop accented with local sweet peppers and pork belly lardons.
The hotels modernist furnishings, wall coverings and art are all fashioned from the local artist community creating a unique synergy and energy between the resort and the local community.
The Artist in Residence program provides guest the opportunity to engage with working artists with on site art classes, lively discussions and music making. The Andaz gift store next to the reservation desk also affords visitors a chance to purchase uniquely crafted souvenirs. www.scottsdale.andaz.com'
After settling in our first night's stay at our artfully decorated bungalow, we ventured to the nearby downtown Scottsdale ( a mere 2 mile drive) to discover some of the local wine shops, distilleries and breweries that have been making there way into the vibrant Scottsdale food and beverage scene.
Local Super Chunk Sweets & Treats has been a Scottsdale favorite sweet shop and ice cream haunt and has now expanded with New Wave Market. Freshness is king here; house made bagels, hearty sandwiches like an italian sub, vibrant salads, locally roasted coffee and gourmet teas are available for breakfast or lunch in a quaint café atmosphere. Don't forget to grab a dozen of some of the best mesquite chocolate chip cookies in the west.
Don't just take our word for it, these addictive shortbread cookies made with mesquite flour (a specialty local flour) without eggs but rich with butter, sweetened with organic raw sugar and dotted with decadent chunks of pure chocolate are award winning and irresistible. You really cannot eat just one!
Owners Sergio and Country Velador have literally cornered the market on sourcing superb quality artisanal food stuffs within the walls of this convivial café, bakery and ice cream shop.
Superbly satiated and sweetened we wanted to learn more about the burgeoning Arizona wine trail and with a plethora of wine tasting rooms we were well on our way. The Verde Valley, replete with rich volcanic ash and the farming regions of Sonoita and Wilcox now showcase wineries that sit adjacent to hearty vines that sustain a lively winegrowing industry.
Many of these wineries now have tasting rooms in downtown Scottsdale. Our first sip of the day was at the Carlson Creek Vineyard tasting room. This family enterprise began in 2009 in Wilcox Arizona and has expanded into the third largest vineyard in Arizona.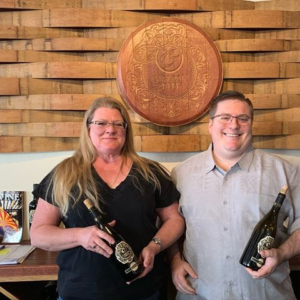 The higher elevation, atmospheric conditions and fine soil minerality combine for growing outstanding Rhone varietals such as Syrah, Mourvedre, and Grenache. Carlson Creek Rule of Three Red is a good starting point in tasting dark fruit, balanced acidity and subtle minerality. The popular Carson Creek Sangiovese or Chenin Blanc are also stellar wines that reflect the strong showing of Arizona's varied viticulture.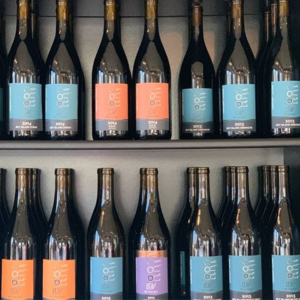 Just a few feet down the covered walkway in Downtown Scottsdale is another family owned tasting room, that of LDV tasting room. Personable proprietor Penny Fiandaca is usually on premise to answer questions and give you the 411 on her fabulous wines. The Sky Island Petite Syrah is a total tantalizer with rich bold flavors in the glass and on the palate. Small bites are also available to pair with the brilliant wines.
Arizona wines are coming up strong but there is an unusual new comer on the block. Only a year young, Blue Clover restaurant and distillery are taking Scottsdale by surprise with owner and distiller Weston Holm at the helm.
At Blue Clover located behind a giant Jackalope sculpture, you will find premium vodka, gin, rum and tequila alongside a locally source menu, hand crafted cocktails and a view into the distillery room where the giant copper pot still is working hard to prepare some of the Arizona's best vodka.
Vodka, Wine and now beer is added to the roster of alcohol offerings within the downtown Scottsdale area, with Goldwater Brewing Co. This is another family owned and operated business that features 14 Goldwater Beers and growing. Pull up a seat behind the taps for a taste, or drive up to the growler refill station for some Arizona style liquid refreshment.
Craft 64 is another amiable eatery to wet your whistle and sing praises for your supper with a vast selection of freshly made artisan wood fired pizzas such as the sweet and spicy Fico composed of fresh Mozzarella, Ricotta, Parmigiano Reggiano,earthy Truffle oil topped with peppery Arugula and a slightly sweet Fig Sauce.
Happy hour prices with keep visitors and locals coming back for more as well as the beautiful house made mozzarella and an array of artisanal local sourced products.
Scottsdale Arizona is known throughout the world for its luxury accommodations and affluent lifestyle. The 5 star Hyatt Regency Resort and Spa Gainey Ranch in certainly a shining example accented by the nearby majestic McDowell Mountains. Upon arrival, we set out for a walkabout and found a plethora of amenities that any guest should partake in. The not to be missed 2.5-acre water playground complete with a sand beach and 3-story, high speed waterslide and a quite adult section, provide something to splash about for the entire family.
Apparently they have luxury pools at all their locations but this one has the most — The 10 swimming pools, 20 fountains, 45 waterfalls provide a spectacular backdrop to relaxing and dining alfresco while sipping refreshing beverages and tropical cocktails. In addition to the water sports, guests can up their golf game with private lessons while enjoying the brilliant mountain backdrop and well-manicured greens. There are also indoor facilities for those who would rather use practice equipment inside, this is for Golf enthusiasts.
Checking in we were given two sets of keys with different room numbers and we were nonetheless very intrigued. Finding our room and opening the huge double door to our suite we felt like Dorothy in the Wizard of OZ. Our eyes scanned to the right, noticing a marvelous view of the gardens, golf course and the mountains all picture perfectly framed outside our private balcony.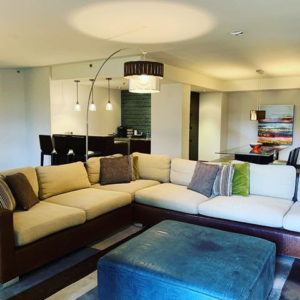 Looking to the left, our signature suite featured a spacious living room, dining area with wet bar and even a conference/dining table for 6.
Our private balcony, a sitting area, and a wet bar would be our luxury home during our stay at this awe-inspiring, 5 Star Resort. After getting settled it was now to relax and unwind with a spa treatment at our luxurious indoor-outdoor oasis, Spa Avania. Avania offers a nice selection of treatment offerings including mineral water therapy, uniquely synchronized music styling and a selection of the world's finest teas into at this indoor-outdoor oasis.
Scottsdale offers many dining options but at this resort there really is no reason to leave. Known to locals and visitors alike, guests can satisfy their cravings and choose to take a culinary journey with Chef Juan and his staff and enjoy authentic Southwestern flavors at SWB. Unique Japanese dishes with a contemporary twist are abound at Noh. And for Italian cuisine, dine at one of the top Italian restaurants in Scottsdale at Alto ristorante e bar. We choose and highly recommend the "Wine Me, Dine Me" at SWB.
This is a unique experience as we joined newest staff member, Executive Sous Chef Jordyn Fitzgerald and her crew as they dove into dishes featuring fresh, authentic Latin and Southwestern flavors. "When we do Wine Me, Dine Me, we like to put our own style on things," said Chef Jordyn. "We especially like the spices and the chilies." At each seating, these culinary all-stars custom prepared a four-course menu complete with tequila and wine pairings.
Pull up a seat and see, smell, taste and sip bold southwestern and Latin flavors, making this an authentic interactive and memorable dining experience. After dinner punctuate the day with live music, a glass of wine or explore a very extensive spirits list at the Center Stage Bar.
The Hyatt Regency Resort and Spa and Gainey Ranch serves it all up to its guests on a silver platter from romantic dinners and gondola rides to activities for your entire family with luxury amenities and amenities that define the luxury lifestyle.
Scottsdale Arizona offers abundant choices to enjoy a weekend visit or explore for a week. Luxury acclamations, world class cuisine, craft breweries, wineries, distilleries and scenic outdoor activities all await visitors with open arms.
https://cuisineist.com/wp-content/uploads/2019/02/ScottsAndazreal1.png
1348
1080
Elaine and Scott Harris
https://cuisineist.com/wp-content/uploads/2019/08/cuisineist-logo.png
Elaine and Scott Harris
2019-02-24 22:45:43
2019-10-10 18:58:15
Scottsdale Arizona a perfect weekend escape of tasting and day tripping.