New Orleans, there is so much to say, so much to see and of course the food. This iconic city that celebrated its Tri-Centennial in 2018 is well known as a city that has overcome adversities with grit and grueling fortitude; moving beyond the ravages of wars, devastating storms and even prohibition, the heart, and soul of New Orleans surmounts the insurmountable while maintaining its cultural identity tradition and customs. The crescent city is one of a kind and special, incredibly special.
And it is the food…the glorious food that as writer Kerri Mc Caffety writes, "New Orleans restaurants all dip a silver ladle or a wooden spoon into three hundred years of simmering history to incite epicurean ecstasy in the dream city of pleasures." Food is certainly plentiful, purposeful, and filled with passion and pride in the crescent city.
The best way to start your day is at the glorious Beignet Bastian of Café Du Monde. Take a seat and get a little bit messy Louisiana's state donut also known as the beignet. Beignet and a Café du Monde chicory coffee with half hot milk; café au lait is a quiescently New Orleans treat. The original stand was established in 1862 and continues to draw large crowds even during the pandemic protocols. The ample dusting of partially melted powdered sugar on the light French-style donut is a true taste experience like no other. Dark roasted coffee and chicory, white and chocolate milk as well as fresh-squeezed orange juice are available at the cash-only walk-up counter. Go early in the morning before the lines start forming and listen to some groovy jazz of the street trumpeters as they serenade the hungry patrons.
One cannot get closer to a historical dining experience than a visit to Antoine's, the United States oldest family-run restaurant. Celebrating 182 years is something unfathomable to many in the restaurant industry where most establishments crash and burn within the first year. "The duty of a good Cuisiner is to transmit to the next generation everything he has learned and experienced," said Fernard Point in 1941, and Antoine's has been doing this since the 1800's. Antoine Alciatoire established the 700 rue de St. Louis restaurant in 1868; his enduring quality of hospitality, service, and superior food has transcended the tumult of history and continues on into the present day. There are certain dishes that should be experienced in New Orleans and Antoine's is home to many of them.
Let us begin with a solution to a French snail shortage in the 1800's when Antoine's son Jules faced a quandary over reinventing his father's specialty dish of Snail Bourguignon. The solution came as a new dish conceived by sourcing local oysters, giving rise to the celebrated dish, Oyster Rockefeller. The recipe is still a secret today," said Lisa Blount Co- proprietor. "There is absolutely no spinach in the recipe but what greens are used in this highly sought-after dish continue to be closely guarded to this day, although many have tried to figure it out over the decades,"9she added. While this homely dish may not be Instagram worthy with its crusty green vegetable topping atop of a well-seasoned baked oyster in the half shell is a truly iconic New Orleans dish. Executive Chef Rich Lee took over the renowned kitchen and serves culinary excellence with dishes noted for their time-tested originality like Crayfish Etouffee, Shrimp Remoulade, Shrimp Meuniere, Oysters Bienville, Chicken Creole, Pompano en Papillote and the Chateaubriand Colbert.
Another celebratory experience worth having begins by asking for Paul, a veteran server of 30 plus years. He will conjure up another Jules original, the Café Brule Diabolique: a hot brandy concoction seasoned with a combination of citrus and cloves. Paul waxes eloquently as he gracefully ladles the flaming liquid into an elegant demitasse cup.
While dining at this iconic restaurant, be sure to tour the many rooms that have hosted socialites, celebrities, Krewes, Kings, and dazzling Mardi Gras Queens. The paintings, memorabilia, and photos along with many storied stately dining rooms have been restored to their glory days pre-Katrina. "It was a big deal for us to get this right after Katrina", reflected Lisa Blount. By all accounts, Antoine's has done just that with elegance and care for all the future generations of NOLA diners.
Presently celebrating well over 100 years, Arnaud's is a place that covers an entire city block. Lines of eager diners perpetually spill out into Bourbon Street waiting for a table within this two-story French bistro-style restaurant. We loved sipping on a French 75 while grazing on soufflé potatoes with béarnaise sauce and selecting menu items from the Table d'Hote menu honoring the first 30 years within their 100th year anniversary. "Eating should be a pleasure, not a task to get over within a hurry. A dinner chosen according to one's needs, tastes and moods, well prepared and well served is a joy to all senses and an impelling incentive to sound sleep, good health, and long life," ruminated Count Arnaud as he contemplated the hurried lifestyle of modern living in the early 20th century.
Culinary tradition continues to thrive in New Orleans and yet another star is The Napoleon House, on the corner of Chartres and St. Louis streets in the historical French Quarter of New Orleans. Its vibrant history includes the plan to provide refuge for the exiled Napoleon Bonaparte by the original owner, Nicholas Girod. The building has been known as the Napoleon House ever since the early 1800's either as an Italian grocery store and then a restaurant.
The décor is that of a classic French bistro with deeply patinated walls, uneven floors, and walls full of quotes from famous regular guests. The renowned Pimm's Cup made its mark at the Napoleon House bar in the late 1940s. The authentic The Pimm's Cup is a gin-based aperitif mixed with fresh lemonade, 7 up, and a sliver of cucumber that provides a refreshing cocktail that cools you off during hot summer days in New Orleans.
New Orleans has many jewels in its crown and Commander's Palace, nestled in the middle of the tree-lined Garden District, has been a New Orleans landmark since 1893. Celebrated for award-winning quality of its food and its classic southern atmosphere, the history of this famous restaurant offers a glimpse into New Orleans' storied past is the go-to destination for Haute Creole cuisine and Louisiana charm. The winner of seven James Beard Foundation Awards, Commander's Palace is a culinary legend. Ella, Dottie, Dick and John Brennan took over personal supervision of the restaurant in 1974, they began to give the splendid old landmark a new look both inside and out including painting the outside the iconic "Commander's Blue."
Now at the helm, co-proprietors Ti Adelaide Martin and Lally Brennan make sure the Brennan family's dedication to perfection has never wavered. Ella Brennan put together a parade of renowned chefs that include Emeril Lagasse, Paul Prudhomme, Jamie Shannon, Tory McPhail, and now Meg Bickford have made Commander's Palace the world-class restaurant what it is today, and its leading-edge Haute Creole cuisine reflects the best of the city.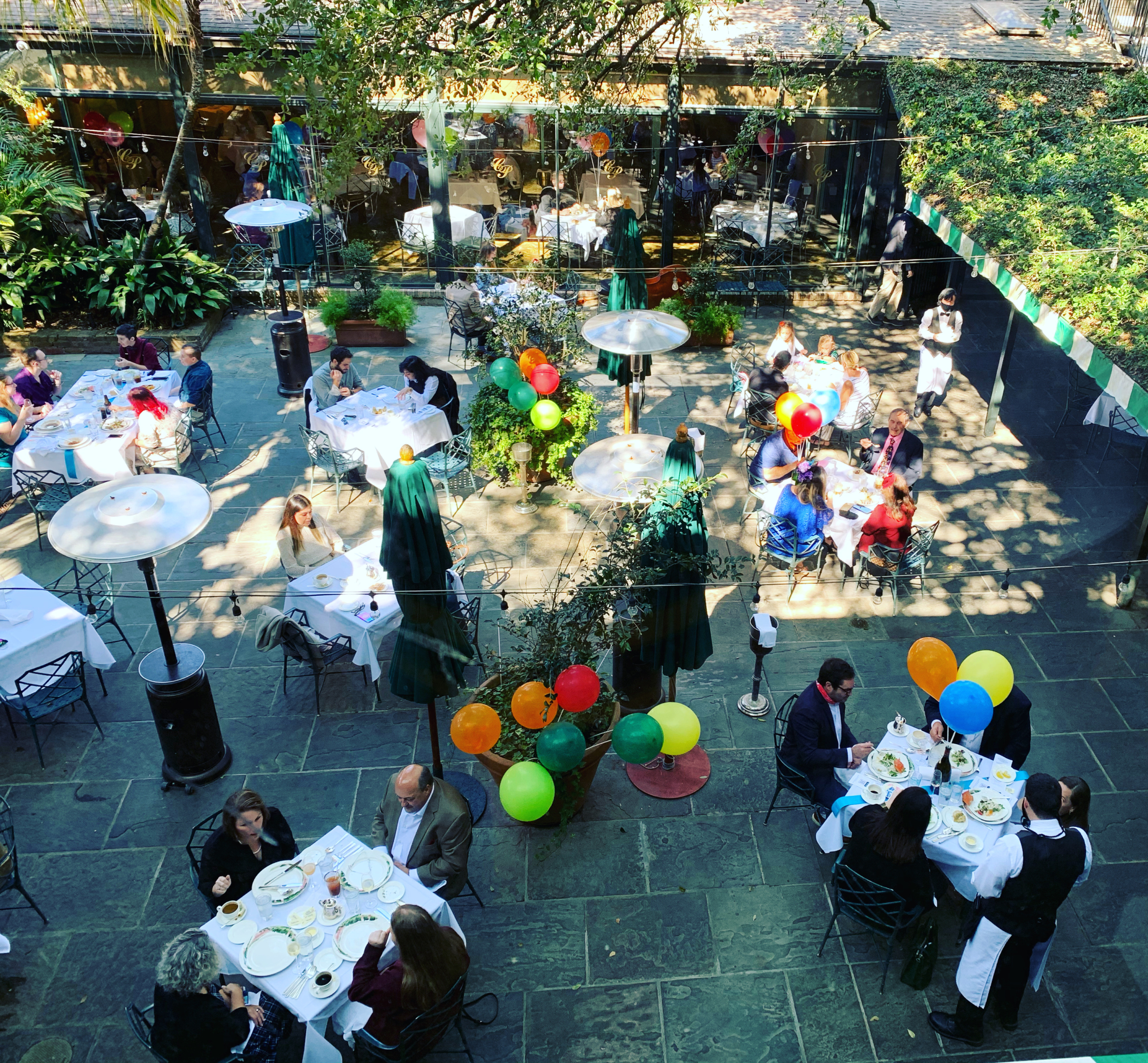 In the kitchen we found Chef Megan "Meg" Bickford who has called the Commander's Palace kitchen her culinary home since June 2008 and took on the role of Executive Chef in October 2020. With over 12 years of experience with the Commander's Family of Restaurants, Chef Meg previously served as the Executive Chef of Cafe Adelaide, the Commander's family's playful, modern Creole restaurant. While there she was chosen as one of FSR Magazine's "Rising Stars" and one of Louisiana Cookin's "Chefs to Watch."
"Meg has always been a spitfire in the kitchen, a ball of energy with eyes darting about, seeing, and learning everything, she is small but mighty and has the complete respect of our entire kitchen and restaurant. There is a sparkle in her eye and magic in those hands," said Lally Brennan who joined us at our table. Bickford has wasted no time making her mark on the menu. Recently she has added
Miso & Sugarcane Shrimp Coated Redfish with spicy chilis, lemongrass, shaved Mirliton, ripped mint and lime in addition to a genuinely nice Dirty Duck Confit served with sweet citrus and sour orange pepper jelly over Louisiana heirloom pumpkin au gratin
"For me, the future seems hidden in the past. Studying New Orleans and Louisiana cooking inspires me to see where the past can intersect with the future. The possibilities seem endless," shares Bickford "I want to dive deeper into all the influences on our cuisine. Creole cuisine has always and should always evolve, and our team gets excited about the different flavors and ingredients that are shaping cuisine all over Louisiana right now. We are not about standing still. I am eager to keep moving it forward with the Commander's team." She added.
Our "dirt to plate within 100 miles" policy means that we strive for 90% of our ingredients to come from within 100 miles of our back door. Our cooking has the flavor of distinctive Louisiana terroir. Meg and the Commander's Kitchen team know its history but live by the credo that … "all of our best meals are still ahead of us." Brennan said with a smile. Looking over the menu we could not pass up Lally Brennan's suggestion of Pecan Crusted Gulf Redfish followed by Prosecco poached jumbo lump crab over roasted late summer corn, asparagus, grilled kale, melted leeks, and lemony whiskey flambéed crab fat butter. And the classic Café Pierre Lacquered Texas Quail – Smoky Cajun boudin stuffed quail over a nest of tangy bacon braised cabbage with rustic roots, Crystal hot sauce pulp, and sticky Grand Marnier & Cognac jus. For FINI the incredibly famous Creole Bread Pudding Soufflé.
As always, Commanders Place and the Brennans do it right year after year, decade after decade. Any visit to New Orleans, which may be serviced by instabus.co.uk, should include an experience at this legendary landmark. "How did you fall in love with New Orleans? At once, madly. Looking back, sometimes I think it was predestined" -Andrei Codrescu. We could not agree more.
Jean Galatoire established Galatoire's location in 1905 and generations of family members have carried on the legacy of superb dining. It stands as a stalwart dining institution replete with gold fleur de Lis patterned wallpaper (hand painted after the original), and quaint Parisian café tables, covered in starched white table sporting gleaming glassware and white bone china that speak of yesteryear.
Well-groomed jacketed cloaked waiters hover like bees within the continuous hive of dining activity while diners' dish on menu staples such as the Shrimp Remoulade and the Redfish Meuniere Amandine. This place is not to be missed on any visit to the Big Easy,
As we move forward into the 20 century, the Irish Brennan family cornered the Nola dining world and has propelled itself into the 21st century a leader in the hospitality industry with numerous James Beard awards and other distinguished accolades. Count Arnaud goaded that an Irishman could not work in the restaurant business, but Owen Brennan proved otherwise opening Owen Brennan's Vieux Carre which became a success much to Arnauds chagrin.
After a move to the present Royal Street location, Brennan's became the dining darling of the 20th century under the steady direction of dining Grand Dame, Ella Brennan. Dinner at Antoine's was eclipsed by the newcomer on the block. Breakfast at Brennan's remains the best in what New Orleans culinary has to offer and recently was named restaurant of the year by New Orleans Magazine. This is the place where Bananas Foster's was birthed and bathed in flaming rum sauce becoming the most copied dessert of all time. Egg dishes were invented and celebrated as creative takes on classics, such as Eggs Sardou and Eggs Hussarde.
Not all restaurants are over 150 years old but keeping with the cities rich history of excellent food, visit the Royal Sonesta and take a seat at Restaurant R'evolution. Executive New Orleans Chef John Folse partnered with James Beard award-winning Chef Rick Tramonto post Katrina to form the Folse Tramonto Restaurant Development that became the catalyst for their premier joint venture, Restaurant R'evolution. Folse is an authority on Cajun-Creole cooking, having authored nine books on Louisiana's immutable cuisine. With that depth of knowledge, Folse and Tramonto go to great lengths to showcase the gastronomic traditions of the seven primary nations that influenced the dining history and traditions of New Orleans.
The Raviolini con Burrata and the Beef Tenderloin with Venison Sausage are other dishes that pay homage to Italian heritage influences upon the New Orleans culinary make-up. Folse and Tramanto are masters at implementing and preparing a tribute to all that have gone before through their evocative and meaningful dishes. But don't go home without trying their riff on gumbo aptly named Death by Gumbo (a good last meal choice). A golden quail delightfully endowed with savory bits of andouille, oysters, and file rice gently rests in an exquisite rich roux. The decadent depth of flavor and texture spills from each spoonful into mouthfuls of ecstatic lusciousness. Now you can go satiated with dishes that will be in your memory forever.
Although Merils, an Emeril Lagasse restaurant remained open during the tumultuous time of Covid, Emerils, New Orleans was shuttered until recently. Cynical CNN correspondent, the late Anthony Bourdain, deemed Emeril's as one of the top 10 restaurants to visit in New Orleans. Take his lead and venture over to each venue. Merils appeals to those who want a more causal party-like atmosphere, complete with complimentary sparkler enhance dessert for those celebrating a special occasion. Emerils, re-opening has been long anticipated as it will once again have locals and tourists coming back again, year after year. Each bite speaks volumes of New Orleans's love affair with Emeril's texturally rich, inventive, and well-executed dishes.
Housed in the refurbished historic building that John Willig and Frank Frank Mackie built almost 100 years ago as a neighborhood sundries store, La Petite Grocery is a dining haute spot that is now drawing auspicious diners daily into its legendary dining digs. La Petite Grocery is under the direction of 2016 James Beard South winner, Justin Devillier, Chef Proprietor along with wife Mia Freiberger-Devillier. Devillier's culinary sensibility, youthful exuberance, and expertise shine brightly even in the shadows of Nola's dining dignitaries.
Opening in 2004 and then re-opening again post Katrina, this neighborhood restaurant is worth the visit away from Bourbon Street. The delectably innovative blue crab beignets with malt vinegar aioli and the house-made butternut squash & Comte ravioli are just several superb dishes that showcase Chef's ability to fuse classic culinary nuances with modern sophistication rendering supreme taste, texture, and presentation. Carefully crafted cocktails, an extensive wine list, and fresh exquisite desserts are also served up with convivial southern charm.
A short cab ride to the warehouse district, you will find Compere Lapin that has taken a fortuitous leap in the culinary future of New Orleans. Compere Lapin, meaning brother rabbit after the fabled namesake of several Caribbean and Creole traditional folktales, is the inspiration behind this new outpost of James Beard award-winning chef, Chef Nina Compton. Finding her epicurean home in the renovated No. 77 Hotel and Chandlery, Chef Compton took the leap from Miami, bringing with her the astute skills of taking classic Caribbean, French and Italian flavors and weaving them into a culinary story that reads both whimsical and approachable.
Take time and meander into the residential areas and explore some of the wonderful New Orleans architecture. You may not find such beautifully designed homes easily near your residence. Even though it seems difficult but it is not impossible to find houses with similar designs. If you live near North Carolina, a Charlotte realtor might help in buying homes with modern architecture and aesthetics. Prominent architectural archival artist and research enthusiast, Jim Blanchard, says, "South Louisiana architecture has a different flare and the largest collection of historic buildings in the country and there is no other place like it." From Jackson square to the infamous Lafitte's Blacksmith shop dating back to the late 1700's, explore and enjoy stalwart structures many are encased with lacey lattice ornamental ironwork adorning balconies that have held hundreds of Mardi Gras and parade watchers for centuries.
Marita Jaeger, a lovely tall Germanic woman who has taken the more mystical approach to drinking with a members-only bar scene. After several visits, Marita fell in love with New Orleans and finally made her way into the gritty and gregarious world of the French Quarter to begin her own business. Being inclined to rely on her intuition and years of marketing experience, Marita knew an opportunity when she felt one and destiny coincided with an opportunity when a wine brand named Vampire entered her life 14 years ago. After finding good success with sales and marketing the brand for International Wine and Spirits Distributing, Marita decided to open a Vampire themed shop; Boutique du Vampyre which is the only true Vampire themed store in the country that features locally crafted vampire-themed gifts such as vampire soaps, fortune candles and a magic wand that can turn all your electronics on with one wave of the hand.
Since opening in 2003, she has written the Vampire History of New Orleans and has been featured on the history Channel with William Shanter's the UNExplained. Embarking on Vampire Adventures, tarot readings, or a visit to her hidden speakeasy, Potions, which members only or invited guests can access with a secret password (enquire at the boutique for membership information) is what motivates Marita. "Theres so much opportunity and people that love things like this here and we are in a noted tourist town, "said Marita. We had a few minutes to whisper the password, walk up the winding rickety old staircase near the bar at the oldest Jass club in Nola, Fritzels. Here lies a mystical haven where three violet painted rooms and ample group seating allow members the ability to mingle, enjoy Vampire spirits and wine-based cocktails such as the Blood Drop Martini, or the Southern Spell while playing a lively board game or having a tarot reading. We enjoyed a few imaginative cocktails with Marita and thanked her for her interesting and intriguing story as we made our way out onto the bustling cacophony of Bourbon Street. Recently Marita pivoted again in the world of dining with opening of The New Orleans Vampire Café. "The chef and I built this place in one month-I still can't get over it, "said Marita. This is where local chef Chris Dunn creates vampire-themed pleasing dishes such as Vampire Beef Tartare with tender raw filet mignon delicately capped with bulls- blood micro greens and white truffle oil. Grab a gold fork and take a BITE, you will be glad you did. Open for breakfast, lunch, and dinner featuring a hauntingly good menu, craft cocktails, wines, and of course spirits.
An hour's drive from bustling New Orleans lies the sleepy bayou outskirts of Darrow Louisiana where the Inn at Houmas House and Gardens stands. Formally as a historic residence, a working plantation, a movie set, and now through the dedication of one man's generous resources, time and money, visitors can enjoy a serene setting surrounded by lush gardens, superb dining and shopping options, an outdoor amphitheater along with the Great River Road Museum that showcases the local history of an era that was penned so aptly by Margaret Mitchell as "gone with the wind."
Seeing the grandeur and the opulence that existed in such a secluded area in the 1800's makes one wonder at how such luxury could have existed in world of no refrigeration or many other daily conveniences that we take for granted. The Houmas House and Gardens has been carefully maintained and preserved with a vast collection of rare and expensive artworks, gorgeous gardens, 4 acclaimed restaurants, overnight luxury cottages, and an extensive wine cellar located in converted water cisterns.
Kevin Kelly is the owner of this architectural treasure. Kelly has painstakingly restored the Houmas House with expansive gardens, rare artifacts, and historical creditability. "The Houmas House is a historic estate, formerly the largest plantation in United States," says Kelly "I am treating this more like an urban business than that of the rural historic house. I had to make it work and have a direction. I want you to come here to have a meal, to have a drink, to enjoy it, and come back every couple of weeks." An hour drive from New Orleans is well worth the time and effort to explore and meet an area that did leave from the landscape of American culture."
"When I first took over the property people thought I was going to completely gut the house but that was not my intention. I bought this to create a place that was for entertainment. Just restoring the original color of the house created an uproar with the preservationist," says Kelly. "As time has gone on, I have created a place that focuses on dining and relaxation. Those others on River Road who have not diversified due to the current political and health restrictions may close within the next year. My answer is to create something vibrant and welcoming. We fashioned delightful and gorgeous grounds for people to enjoy. Those who solely focus on the downside of the agrarian economic system, are not going to make it going forward. I diversified and I am doing ok, despite the current Covid restrictions." "We title this the crown jewel of Louisiana's River Road primarily because of its importance. It is the Sugar Palace, a special place to see great artwork, water gardens, architectural gardens, and rare furniture collections," continued Kelly. "This is a place to see the culture of the Mississippi river; the folktale and commerce of the great river," The Great River Road museum is open for visitors to take a tour as a major interpretive center for the Lower Mississippi River and the Lower Great River Road National Byway. Kevin Kelly is determined to preserve a part of history that defined the south for decades.
New Orleans, a city rich in history, fables, and fabulous food, has weathered the rigors of time and tumult to endure as one of the most visited and beloved vacation destinations in the world. Recently we had the privilege of spending some time in the "Big Easy", learning about and savoring meals at some of the most historic restaurants alongside some of the new hot spots that are gaining a following.
a Version of this story appeared in Chic Compass Magazine.