A huge sheet of snow and ice just about nailed us from the above awning as we innocently walked past the storefronts in South Lake Tahoe. Day one, and here we are experiencing an overhead avalanche from a rogue mass of accumulated snow. Mark Twain observed, "to breathe the same air as the angels, you must go to Tahoe." We didn't know that statement could take on a seriously different meaning while visiting South Lake Tahoe and Heavenly Ski Resort during a year of heavy snowfall. We eagerly anticipated our four days exploring this winter wonderland with all its extraordinary beauty and hopefully hazard-free.
The glistening snow peaks abutted against the barren landscape and frozen lakes like an austere collage as we made our way to the tiny town of the state line. Here, giant casinos beckon to winter sports enthusiasts needing a reprieve from their action-packed adventures with your common casino gambling games, as well as more modern sports betting kiosks dotted around the place enticing you to try and win some money on the next match of your favorite sport.
However, the days of having to leave your house to satisfy your inner gambling wizard are long gone. There are numerous online casino Pennsylvania games, and others, available, each with a diverse selection of games for you to enjoy. In fact, no real money is required to play these games. Yes, you read that right. Because of technological advancements, you can now play with Litecoin and other cryptocurrencies. They may provide a variety of excellent crypto bonuses as well as a large selection of games. For example, if you have Litecoin that you want to spend, you may find this litecoin casino useful, as it tends to offer bonuses with your first deposit.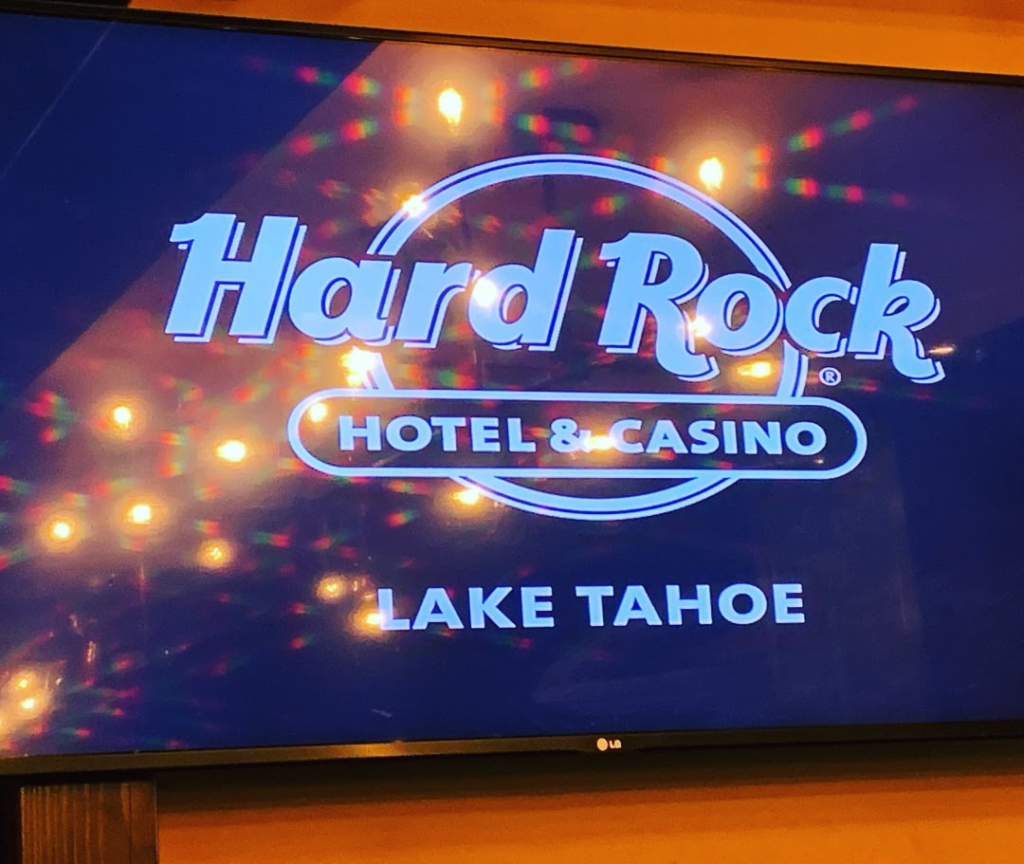 With a bevy of casino resort choices, we settled into a clean comfortable room at the Hard Rock Hotel and Casino Lake Tahoe. Even Elvis Presley was there to greet us with numerous pictures, costumes and life-sized images. He appeared to enthusiastic crowds in the Lake Tahoe area in the 70's.
A vintage poster that once canvassed concert goers with a $20 price tag for a show and two drinks hung predominantly on the wall. With great bars, restaurants, a tattoo parlor and an on -site dog grooming parlor this is indeed is a preferred accommodation for pet parents and music lovers.

Checking out our room, we noted the mattress was marvelous and the view of the lake and grounds kept us spell bound but a meal at Park Prime was on the docket prompting our empty stomachs. This modern yet relaxed atmosphere was the consummate place to enjoy cocktails and snow crab claws alongside a perfectly medium rare filet.
Sipping on classic cocktails, the hours melted magically like snow on a rare sunny day. Feeling full and wanting to be ready to hit the snow trail in the morning, we sauntered upstairs for the evening as skiers filled the lobby with their bulky gear and well suited pets.
Ready, set, snow! With tickets to the gondola already to pick up, we embraced the biting cold and snow cautiously making our way past the chalet styled businesses, restaurants, bars and coffee shops along the main street.
The California-Nevada border runs through the pristine lake and divides the Southern shore area into two communities that co- exist with each other, the winter ski destination of South Lake Tahoe on the Ca. side and the Casino gaming on the Nevada side. If you want to play online games to die for, you can try renowned sites like dadu online.

The wind was whipping up a total white out, only to see the gondolas at a standstill and a nearby billboard displaying that a majority of runs had been cancelled due to the changeable winter weather.
We opted to settle into the small family owned restaurant, Blue Angel, where plenty of taps, healthy cuisine and a wine list showcasing nearby California vintners fashioned a delectable winter reprieve.
Blue Angel mission's is in offering the perfect family friendly Swiss style après ski venue to enjoy. This is a clever demographic to appeal to, as there are plenty of family activities in Lake Tahoe, meaning there are probably plenty of families looking for somewhere to eat when visiting the area. Although we had to forgo the slopes, this quaint cottage like restaurant was clearly an ideal choice before or after a run up the mountain. The warmth of spicy homemade curry and a hearty sandwich paired with a local blonde ale was a satisfying way to spend the afternoon.
Opting for a more grounded look at the winter wonderland, we decided on a group snowmobiling adventure at nearby Zephyr Cove Nevada. Finding an outfit that specializes in all things recreational could not be easier than booking through Zephyr Cove Resort & Lake Tahoe Cruises in NV.
Winter or summer, recreational offerings abound from snowmobiling to winter cruises on Lake Tahoe. In the summer, this place is a hot spot for all things cool with a myriad of water amenities and lodging under the pines. Lined up aside our snowmobiles, we were ready for the 411 and then off and up into the spectacular winter setting.
Fingers of sunlight filtered through the snow shrouded evergreens giving us a rare day of subsided wind and visibility. "Ok, who here has ever snowmobiled before?" inquired our athletic looking guide. A few hands went up giving us a sense of communal comfort knowing we were all in for an interesting first time jaunt through snow and ice. Scott bravely volunteered to drive the 800 lb. machine up the trail but did so with much trepidation as this was one of the very few times he had ever experienced the snow, let alone drive a nearly one ton -machine up a snow covered mountain.
We opted for the caboose position-with a guide behind us. There is a lot to learn about breaking and maintaining your speed around icy hair-pin turns, so slowly we went, ever so slowly, so slow in fact that our guide came along side several times urging us to go faster since we lost the entire group on our ascent up the mountain. "Safety first," I chirped from the back seat. She irritatingly smiled through her glass mask as she zoomed beyond us to let the others know we would eventually catch up.
Going up the mountain was a mixed bag of emotions from my backseat perch as I navigated the picture taking pictures while hanging on for stability. The blur of giant pines embedded with billowy snow mounds, creating a fleeting Fantasia Disney scene both startled and delighted us. Fingers nearly frozen, I managed a few good shots, as Scott puttering along at his safety level and trying to enjoy the unparalleled views of Lake Tahoe. Nearing the end of this adrenaline filled mountain expedition, we found that this was a rare way to see nature in all its wild, wintery glory.
After answering the call of the wild, we were cold, tired and hungry as we made our way to local's favorite Riva Grill on the Lake. The winter winds and frosty flurries didn't deter hungry diners as they filled the large lobby at this beach front dining institution. The wall to ceiling windows provided the ideal shoreline view of North America's largest alpine Lake. Dim shadows replaced the pinks and blues of the dimming daylight that danced alongside the many anchored watercraft right outside the windows.
The Riva boat company produced the Riva Runabout, the mahogany speedster boat that once graced the lake and waterways around the world. This renown institution began over a hundred years ago and the restaurant's noted namesake. Considered a sought-after luxury, these magnificence boats may now put you back a few hundred thousand dollars, but you can still have a satisfying meal at the Riva. We settled in by sipping on their signature "wet-woody" cocktail complete with a tropical drink umbrella and plenty of proofs and rums to pack a punch. With live local music, a sophisticated happy hour and vibrant seasonal menu, diners clamor to catch the dining wave at Riva. After a hearty meal and a few versions of the wet-woody, we sedately made our way back to the hotel room.
With 24 hours left on this short venture into this winter wonderland, we chose yet another outdoor activity that didn't include skis or a snowboard. As the gusty weather had closed many of the runs, we were fitted with a pair of sleek snowshoes at the Tahoe Powder house. Conveniently located less than a quarter mile from the Van Sickle Bi-State Park, we found easy access to wide areas for snowshoeing. Snowshoeing is not for the faint of heart, or the weak of body as these large metal and plastic devices fit over your boots, adjust easily, but are bit tricky to maneuver.
Taking a few moments to walk with our new enlarged feet, we found the snowshoes gave us enough width and support to hike with some effort across the deep snow. Hiking through the woods where the gentle quite solitude calmed us from our very different experience of yesterday's fast paced adventure, we relished in our Mother Nature reprieve.

After our leisurely, yet robust hike, we checked into our new accommodations at the Lake Tahoe Resort at Heavenly situated right in the middle of the action with the gondolas literally right outside the front door.
Our new accommodations could not be more convenient to experience more of the area. The lobby features a large atrium with skylights, live trees and tropical shrubbery that makes guests feel like it's a lovely summer day even when it is snowing outside.
Lake Tahoe Resort Hotel is South Lake Tahoe's only all-suite lodging located right at the base of Heavenly Mountain Resort. It offers a plethora of suites to choose from to insure your stay is comfortable and convivial. There are 332 standard suites that feature a kitchenette area with a wet bar, small refrigerator, microwave oven, sink, and a very high-tech coffee maker. The 61 premium suites include all the amenities of the standard suites but takes it up a notch with Egyptian cotton sheets and bedding, bathrobes, cozy rugs like those vintage rugs that can be found online, and even hot cocoa.
This spectacular area provides impressive views of the lake and surrounding area. The resorts patio suite features a large outdoor patio to "take it all in". For the ultimate Lake Tahoe experience check into one of the four balcony suites. Sit back, relax and enjoy a panoramic view of the lake from the large outdoor patio. No matter which lodging option you choose, Lake Tahoe Resort Hotel accommodations will make you feel right at home in this mountain paradise.
As a green hotel, the Lake Tahoe Resort Hotel is committed to keeping things that way. Lake Tahoe is the largest alpine lake in North America and has clarity of 70 ft down through crystal clear waters. Each year the residents and visitors of Lake Tahoe work to maintain and improve clean clear water thus maintaining the lake and surrounding area for future generations to enjoy.
ECHO, located in the resort, is a casual Asian-American restaurant that will keep you coming back again and again. Stop in and enjoy few appetizers, lunch or dinner. Every dish is crafted using locally grown vegetables and meats when possible. Long time resident and executive Chef Salvador Delgado continues the legacy of his mentor, celebrity Chef Roy Choi. "I studied and learned to respect everyone in the industry and to focus on the trends, "said Delgado. During the summer months, a seasonally inspired menu & live music are available on the upper patio overlooking the main street.
For lighter fare, the tuna tartare & avocado will fit the bill. Enjoy fresh Ahi tuna sprinkled with sesame along with soy, & wasabi, stacked in layers of avocado, tomato, onion citrus relish, sweet soy, crispy wontons and seaweed salad. For a more robust experience, the 12 oz. rib eye with blue cheese cabernet sauce will certainly please the palate of any carnivore.
To have some fun while dining at ECHO why not build your own natural grass fed locally farmed burger.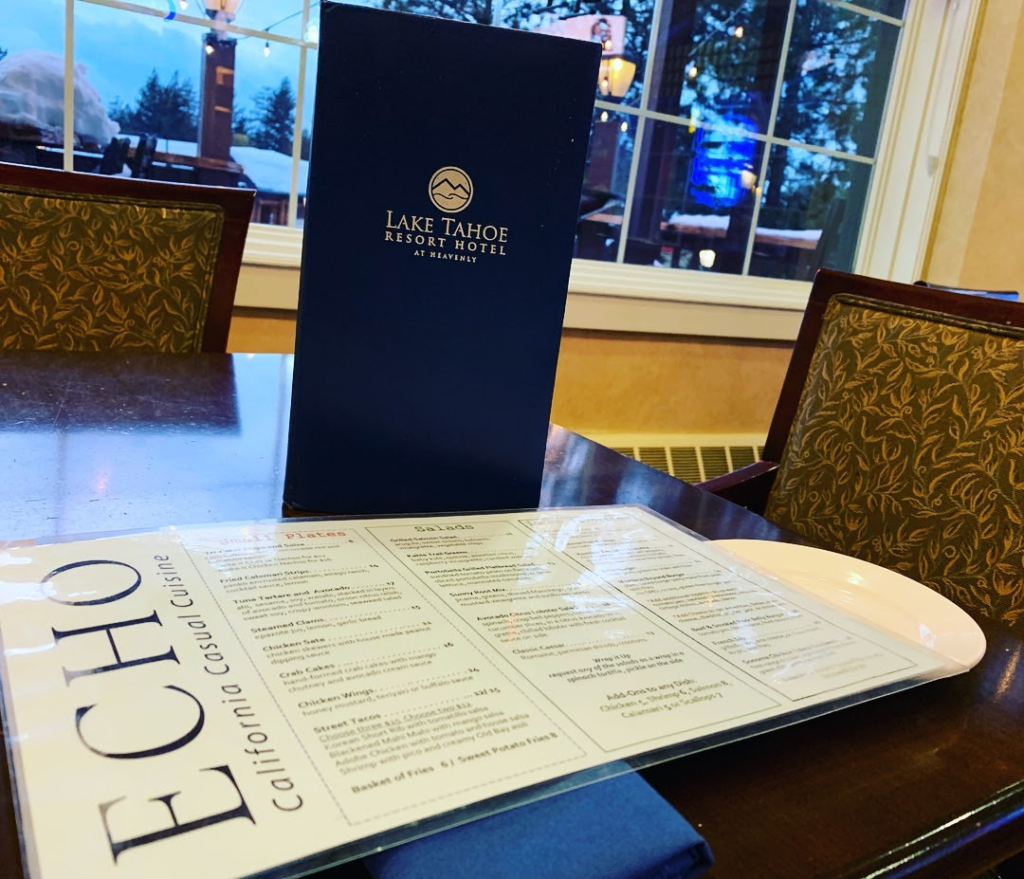 Choose from either peppered or blackened burger, then add sautéed mushrooms, onions, Ortega chilies, avocado, bacon and tomato jam. Cheese it up with blue cheese, American, pepper jack, provolone or swiss. In addition to the burger, enjoy making your own pizza. Dive right in by starting with a cheese pizza then adding your choice of marinara, BBQ or pesto sauce. Top it off with spicy pepperoni, sausage, chicken, Canadian bacon and a bevy of veggie choices.
In addition to build your own, why not cook your own as well. Delgado's ECHO offers guests to experience and create their own Shabu shabu dinner. The dish is usually made with thinly sliced beef and served with tofu, vegetables, chinese cabbage, onions, carrots, shiitake mushrooms and noodles. Submerge the slice of meat and vegetables in a pot of boiling broth and cook to preference. The best part, is once the meat and vegetables have been eaten, use leftover broth and combine it with rice for the ultimate FINI.
We're all fortunate to be able to visit, vacation, play, live, or work in one of nature's most beautiful recreational areas in the United States. With year-round recreation, adventure, dining and gaming, this is a little bit of Nature's heaven and haven for all to enjoy.
You too can breathe the same air as the angels as writer Mark Twain alluded to in this paradise 6,000 feet above sea-level over-looking alpine forest and cobalt blue waters.
https://cuisineist.com/wp-content/uploads/2019/04/LTHR.png
480
480
Elaine and Scott Harris
https://cuisineist.com/wp-content/uploads/2019/08/cuisineist-logo.png
Elaine and Scott Harris
2019-04-20 22:30:51
2021-12-14 15:48:27
South Lake Tahoe Offers a Plethora of World Class Dining Choices and Winter Activities for All to Enjoy.