Grape Growing and Winemaking is about tradition no matter where in the world its made. The best wines are usually family owned and the passion has been passed down for generations.
It is no secret that this is exactly what has been going on in the wine making regions in Europe and elsewhere for millenniums. What many do not realize is that there are family owned vineyards in the US that have been growing grapes and making wine for longer than most think.
One of these wineries is Pomar Junction winery that  has an  agricultural heritage and grape-growing history that dates back at least eight generations of the Merrill family on California's Central Coast. In present times, owners Dana and Marsha Merrill keep the tradition alive, farming the Pomar Junction Vineyards along with their son, General Manager Matthew Merrill, while Winemaker Jim Shumate works the transforms  sustainably-raised fruit into a collection of renowned small-production wines.
Over 30 years ago, the current Merrills began farming many of California's finest vineyards as Mesa Vineyard Management, Inc, which would become one of the most highly-respected vineyard management agencies in the state. Raising grapes in their family-owned vineyards as well as those of the Central Coast's best wineries gave the Merrills first pick of the finest blocks from Santa Barbara to Monterey County.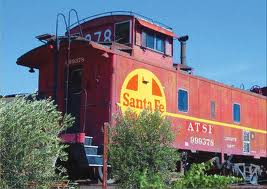 Then In 2002, the family discovered a vineyard in Templeton with the potential to produce the purest fruit they'd yet seen, which they purchased to start their own estate winery, Pomar Junction Vineyard & Winery.
The winery name refers to the Merrills' lineage of railroad engineers as well as to bygone days when the Southern Pacific Railroad was responsible for the development of the picturesque Central Coast. The train theme continues today with real train cars on the Pomar Junction property, as well as a wine club that makes annual voyages on historic trains across the United States.
The Merrills, believe that control from planting and pruning through harvest, fermentation and cellaring is critical to their success and reputation for excellence. It also ensures a uniform dedication to sustainability, which is the foundation of Pomar Junction's operations.
Sustainability is a "buzz" word today but long before,  Dana Merrill was already way ahead of his time. He  is a founding member of the Central Coast Vineyard Team, whose mission is to identify and promote the most environmentally safe, viticulturally and economically sustainable farming methods; and Pomar Junction Vineyard is one of the first to be certified by the SIP (Sustainability in Practice) program, which recognizes a vineyard's commitment to environmental stewardship, equitable treatment of employees, and economic stability.
Dana Merrill
Dana Merrill,
Owner Dana is a seventh-generation Californian with roots on the Central Coast dating back to the days of the California Missions. Raised in the Santa Ynez Valley, he is a lifelong farmer and graduated from Cal Poly with an Agriculture Business degree and continuing on to full-time farming soon thereafter. He began raising winegrapes in 1981 and eventually gained extensive experience managing vineyards for top premium brands in Monterey, Santa Barbara and Paso Robles. He founded Mesa Vineyard Management in 1989, an industry leader on the Central Coast, which has allowed him to work side-by-side with many of California wine's biggest players and most coveted vineyards.
In 2002, Dana discovered and purchased one such vineyard on Templeton's South El Pomar Road,  what is now called the Pomar Junction Vineyard. For six years, the Merrill family worked  to bring the 40-acre vineyard up to the standards of the Central Coast Vineyard Team's "Sustainability In Practice" (SIP) certification (one of the program's first participants and champions) and to renovate the existing buildings for a tasting room. The Pomar Junction tasting room opened in 2008 followed by a production estate winery in 2011.
Dana lives an breaths his community and is very involved as a founding member of the widely-respected Central Coast Vineyard Team which teaches and encourages sustainable vineyard practices, chairing the California Association of Winegrape Growers as a representative of Paso Robles, serving on the California Pierce's Disease Board, and serving two terms on the Paso Robles Wine Country Alliance and Monterey County Vintners and Growers Association boards, among others.
Matt Merrill and Wife Nikki
Matt Merrill, General Manager & Managing Partner
Growing up surrounded by a 9,000-acre vineyard for much of his childhood, Matt caught the grape-growing bug early, feeling at home around massive tractors and harvesters. He attended Paso Robles High School, continuing on to study Fruit Science at Cal Poly University. Near the end of his education, his dad, Dana, asked Matt if he'd be interested in tending a 40-acre vineyard on El Pomar Road in Templeton – the future home of Pomar Junction – in exchange for the opportunity to live in one of the houses on the property. Knowing a good deal when he saw it, Matt accepted, and the Monday after he graduated from college was his first day officially working for the family business, Mesa Vineyard Management. Today, he is the administrator for the Pomar Junction brand in everything from events to bottling to the tasting room to charitable causes.
Jim Shumate
Jim Shumate, Winemaker
A native of Southern California, Jim's first wine job was working in the barrel room at Meridian Vineyards, where he was greatly influenced by legendary winemaker Chuck Ortman. After several vintages with Meridian as Senior Lab Technician and Senior Barrel Technician, Jim moved on to become Cellar Master and Consulting Winemaker at Templeton Wine Services (where he first met Pomar Junction CEO, Dana Merrill). From 1999 to 2008, this full-service processing facility afforded Jim the opportunity to work with a wide range of varietals, styles and volumes – from small, high-end lots to several-thousand-case productions.
While making wine for Templeton Wine Services, Jim was also busy working toward a degree in Enology at Cal Poly University. His involvement at Cal Poly eventually led to an invitation to develop and manage the Cal Poly pilot winery which opened in 2008. As Cellar Master, Winemaker, and Lecturer for the new campus winery, Jim instructed students on procedural operations of all winery equipment, demonstration of lab analysis and interpretation of results. Additionally, Jim co-taught advanced enology classes, operated and repaired all winemaking equipment, and established a new bottling line for the campus winery. After several vintages of hands-on teaching from fruit to bottling, Jim took the position of Winemaker at Pomar Junction in July, 2011
Commitment to sustainability is the Pomar Junction way. The history of the winery is tightly intertwined with that of the Central Coast Vineyard Team (CCVT), of which Owner Dana Merrill is a charter member, and whose mission is to identify and promote the most environmentally safe, viticulturally and economically sustainable farming methods, while maintaining or improving quality and flavor of wine grapes, as well as modeling and promoting the public trust of stewardship for natural resources
Recently, our  tasting panel  embarked on a journey through some Pomar Juction's   wines.
2010 Viognier Pomar Junction Vineyard Paso Robles
This Viognier is comprised entirely of fruit from the Pomar Junction family estate vineyard. The Templeton Gap climate brings out the wine's feminine nose. In the glass this medium bodied Viognier appeared star bright. On the nose, aromas of jasmine and  other white flowers show off its feminine characteristics.
The Palate shows off lovely crisp lemon and pear  flavors with a refreshing finish. With only a 512 case production and a SRP of $25.00 make this wine is worth looking for and enjoying on warm spring afternoons.
2009 Picnic Chardonnay, Santa Barbara County
This fresh, crisp Chardonnay was a pleasure to drink.  In the glass this medium bodied Chardonnay showed a nice gold –green color.  On the nose,  aromas of apple and citrus jump out of the glass. The palate features crisp green apple, lemon and pear flavors that finishes with fresh fruit to the end. This Chardonnay is truly lovely , aged in 100% Stainless Steel is one of the nicest Chardonnays we have had in a while.  At a SRP of 15.00 and only 502 cases produced make this Picnic Chardonnay an  affordable refreshing wine for any outside endeavor.
2010 Brooster Red Wine Pomar Junction Vineyard Paso Robles
In the glass this tasty blend of Cabernet Sauvignon, Syrah and Zinfandel was Medium-bodied and deep ruby in color. On the palate cherry and raspberry come to the forefront with spice and smoke leading to a long finish with balanced tannins.  Affordable with a SRP of $18.00, The Brooster will not disappoint your palate or your wallet
2008 Cabernet Sauvignon Pomar Junction Vineyard Paso Robles
The 2008 Cabernet is made entirely from hand-picked, estate-grown fruit.  In the glass the wine was medium bodied and deep red to purple in color. On the nose, aromas or dark fruit and a hint of rose peddles are predominate. The palate explodes with blackberry, blueberry and spice.  Smoke , earth and leather are featured in the long finish with nicely balanced silky tannins. Only 342 cases were produced of this very nice Cabernet and is worth every cent of the SRP of $34.00.
 2009 Train Wreck Pomar Junction Vineyard Paso Robles
The 2009 "Train Wreck " is a nice blend of  equal parts Cabernet Sauvignon, Petite Syrah, Syrah and Zinfandel .  In the glass this medium bodied blend was deep red to purple in color. The nose leaps out of the glass with intense back fruit and spice. The Palate is a symphony in  the mouth with  big red dark fruit flavors, leather, currant and earth all the way to the end of the very long finish with perect tannins. Only 98 Cases were produced of this gem from Pomar Junction. SRP $48.00 is a steal for this wine.
Pomar Junction wines show their commitment to the land and wine making with every sip and are worth a visit to their tasting room and   historic vineyards.