The Dolphin Bay Resort and Spa is located along the rugged California Coast, just south  of San Luis Obispo and midway between San Francisco and Los Angeles on California's Scenic Highway that arguably is one of the most picturesque coast line drives in the world.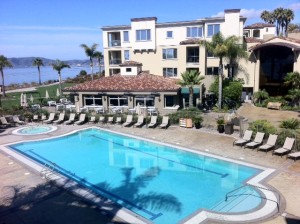 Located in the small beach community of Shell Beach, this lovely resort offers many amenities both on and off the property.
This area of California is not only known for its beautiful ocean views but is also home to California's fertile central coast.  Within 30 minutes of the Dolphin Bay, Guests can be visiting the Tasting Rooms of the Edna valley which produces some of the finest wines in the country.  After a nice day of wine tasting , what a better place to return to than an ocean side resort for a swim , a visit to the spa , a cocktail on your private patio overlooking the ocean and finishing the day with a sunset dinner at a world class restaurant.   All of this is a reality at the Dolphin Bay.
Just Imagine waking up and  looking out over the sparkling blue Pacific Ocean as a pod of  dolphins playfully roll about in the waves below. The sunlight breaking over the ocean is ushering in another pristine day during a stay at the gorgeous Dolphin Bay Resort.
Accommodations:
Arriving at the Resort and checking in with the very efficient and hospitable Front desk staff, we headed for our ocean view suite with great anticipation. Upon opening the large wooden door, the view took our breath away.
The First thing we had to notice was the spectacular view of the ocean and the cliffs bellow.  The Marble floors were polished like a mirror reflecting the sunlight around 983 square feet of perfection.
Gazing to our right was a fabulous gourmet kitchen with granite counter tops and signature appliances that any Chef would be envious of and a dining area with a view that changed through the day as then sun's rays added colors of gold and pink.
The Suite also included a lovely living area with custom furniture and a plasma flat paneled television and a fireplace as well.  The Master Bedroom was large and featured designer linens and very large walk in closets. Some suites even offer Aire Jet Tubs.
Housekeeping service twice a day keeps these beautiful accommodations in pristine condition.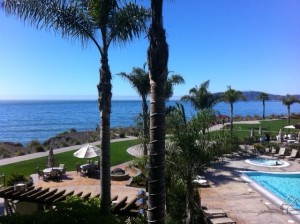 As the waves crashed along the shore, we were carried away with the ambience and decadence this resort had to offer, we could not wait to get started and headed out to explore the property. As we strolled around the large property we noticed family pets enjoying the accommodations with their families.
The Dolphin Bay Resort offers every member of the family a chance  to enjoy the life of luxury together. These family members not only are welcomed, but spoiled, as they too enjoy lounging in their own beds with silver water bowls and special treats. They are even welcome to dine alongside the rest of the family at the resort's Signature Restaurant LIDO's outside patio.
La Bonne Vie Spa :
The Dolphin Bay is not just a resort but contains a world class spa. Guests can spend the entire day unwinding with luxurious signature spa treatments that are designed to rejuvenate and relax.
La Bonne Vie Spa offers many services that are indulgent and pampering. Spend some time with a Massage Therapist or take advantage of a choice of facial treatments.
The Spa also offers some lovely body treatments and even a St Tropez Tanning treatment to showcase your own Golden Glow. Of course foot and hand treatments are available as well.  The best way to enjoy this wonderful spa is to take advantage of the many packages and specials that are available.
After a long day we decided to unwind at the upscale Lido restaurant that is on the resort premises with their award winning sustainable and locally grown and sourced menu.
Lido Restaurant:
The restaurant is located on the grounds of the hotel, flanked by the pristine Pacific Ocean.  The interior incorporates the blues and green of the ocean and is elegant but with a casual flair.
There is both indoor and outdoor seating for a most pleasant dining experience.  Shell Beach has no shortage of small locally owned restaurants that provide outstanding dishes.  However, LIDO in the Dolphin Bay resort takes dining to a whole new level.
This Restaurant with its large widows, and magnificent views, offers fine dining that would be comparable to New York, Chicago , Miami and Las Vegas; some of the finest Culinary cities in the United States.  Lido Restaurant and Lounge has become one of the top sought after dining locations in the area and we could attest to that fact.
Executive Chef, Brian Collins, has perfected his California Coastal Cuisine showcasing a variety of world class products that can be found right in the San Luis Obispo region. He has developed relationships with local farmers, ranchers and fishermen in order to provide the freshest and most natural cuisine.
By using only the freshest ingredients, diners are treated nightly to tantalizing flavors, textures and aromas.
Brian Collins Executive Chef, LIDO Dolphin Bay Resort and Spa
This young and very talented chef was raised on the Central Coast. His initial love of food was inspired by a dinner he attended in Rome at the age of 13. "It was my first multi- course dinner. The meal was prepared, from scratch, in a tiny apartment kitchen by the parents of my Aunt. I couldn't believe that people ate like this. There was so much love in that food! And it just kept coming and coming!"
That one meal changed his life. He aspired to become a Chef and attended the California Culinary Academy in San Francisco.  Chef Brian was mentored by some of the best. He spent the years 2000-2005 cooking alongside Alice Waters and the countless other chef-artists at Chez Panisse Restaurant and Cafe.
In 2001, Gourmet magazine named Chez Panisse the Best Restaurant in America. "Alice taught me cooking simple, delicious food is an art, and that he who puts all his heart into satisfying his fellow men deserves consideration".  Chef Brian had honed his skills and returned to his native Central Coast roots.
Brian completed a one year stint as Sous Chef to Chef Pandee Pearson at Windows on the Water in Morro Bay. Brian then was on the opening crew at Lido Restaurant from 2007-2009 serving as Sous Chef to Chef Evan Treadwell and Pastry Chef Benjie Puga. In the spring of 2011 Brian signed on as the Executive Chef at Lido Restaurant, coming back to where it all started. Chef Brian stated "I hope to add to the tradition of serving excellent, innovative food here at Lido. I hope to build a solid team of passionate professionals to bring our guests a dining experience that is fun, inspired and truly memorable." Brian knows that the best tasting food is organically and locally grown and harvested in ways that are ecologically sound by people who are taking care of the land for future generations.
We could not pass up the opportunity to experience this talented Chef's dishes.  We settled into a lovely table with a view of the setting sun to enjoy a nice evening with a great local wine and anticipated what would be coming our way
We started with Pacific Ahi Tartare with Sesame and Avocado ,Sashimi Grade Tuna, Windrose Farm Chilies, Citrus, Sesame Cracker. We could not have asked for a better way to start than with the Ahi Tuna that literally melted in our mouths that paired like heaven with a nice local Pinot Noir .  We had just enjoyed a local bounty from the sea and it was now time to experience the tasty bounty from the soil of the Central Coast.
Windrose Farms Baby Greens  , Baked Happy Acres Farm Goat Cheese, and Beets.This dish is exactly what Chef meant when he spoke about organically grown and harvested products and the flavors they produce.  The Goat Cheese and Beets came together in a symphony of flavors from the earth.  Our next dish was right from nearby Morro Bay: Six Morro Bay Oysters on the Half Shell w Champagne Mignonett.What else could be said about this dish? With Morro Bay only a few minutes away, the Oysters tasted clean and fresh, in manner that only the freshest seafood can.  The Champagne Mignonett was a nice touch.
It was suggested we try the special of the evening so how could we resist:  Mussels, Clams , Lobster , Shrimp and Sword Fish ,on Top of homemade pasta with a savory, yet spicy white wine broth topped with local micro greens. 
This was one of those dishes that we will remember and still talk about. The fresh gifts from the Sea, on top of Pasta made in house and some heat from the Chilies all combined for a dish that seemed to sum up what entire area is all about; fresh local ingredients.
In this one dish, Chef Brain showed off what the best of central coast dining can be.  The Wine list at Lido is a wine lovers dream, representing over 300 wineries from the Santa Maria and Santa Ynez Valleys to the Edna Valley, Paso Robles and Monterey appellations.  These areas produce some of the finest wines in the country and provide countless and exciting local wine pairings with Chef Brian's cuisine.
The Dolphin Bay Resort and Spa is a Jewel perched on Cliffs overlooking the Pacific Ocean. When you travel, your experience begins with your resort, its amenities, the Staff and the surrounding area.   The Dolphin Bay,  with its personalized service , attention to detail , Oceanside views , a world class Restaurant and a relaxing spa provide all that any guest could ever ask for .  You can be as busy as you want to be enjoying nearby San Luis Opispo and the Vineyards of the Edna Valley or you can just sit on your private patio and contemplate the day. The Dolphin Bay provides the best the area has to offer.