Many people think of Arizona as a western state that is mostly desert, few mountains, sparsely populated and no home gown protein and produce. Those who think that are wrong, very wrong. Recently we explored Arizona with our boots literally on the ground. Arizona is a very abundant state with large certified organic farms, dairies, distilleries, breweries and yes, wineries.
What brought us to Arizona you may ask? That question is easy! The lovely Omni Montelucia Resort in Scottsdale hosted the James Beard Foundation and five renowned Chefs from all over the nation for the inaugural Desert to Dish culinary event.
Our car arrived at this resort nestled at the base of Camelback Mountain, in the exclusive enclave of Paradise Valley. The Omni Scottsdale Resort &Spa at Montelucia is your own oasis inspired by Spain's Andalusia region.
Walking the property, it is very reminiscent of a picturesque Andalusian village featuring arching entryways, tranquil fountains and floral walkways. If its pampering you desire, we found an array of rejuvenating experiences at the award-winning Joya Spa, where we relaxed and decompressed in Scottsdale's only Hammam spa. It didn't take long until we dove into one of the three pools, where stunning mountain views got us in the right mood to explore the restaurants and libation offerings for us to sip and savor. The Montelucia shows off its critically acclaimed restaurants including Prado or you can retreat to an elegantly appointed guest room perfect for stargazing on your private patio. No matter what brings you to Scottsdale, the Omni Scottsdale Resort & Spa at Montelucia is perfect premier destination for luxury and romance, relaxation and recreation. In our case, it was the James Beard Foundation and Desert to Dish.
The sun was setting just behind the mountain and it was time for us to meet the Chefs for the first time. Underneath a sky blanketed in stars we arrived at the reception in Chefs Kitchen & Herb Garden. Resort Executive Chef Michael Cairns welcomed us with a lovely evening of chef tastings, wine pairings handcrafted cocktails and craft breweries all sourced from Arizona.
Enjoying the night on the lawn we mingled with the Desert to Dish chefs and local purveyors who we would become very close with over the next few days.
Mornings at this world class resort bring us a feeling of peace and rejuvenation. This morning however will begin an experience that we will remember for a very long time. We would spend the day teamed up with an incredible chef as we scoured the countryside sourcing ingredients for a dinner with the James Beard Foundation.
Chef Michale Carins Executive Chef at the Omni Montelucia introduced us to our Chef partners for the weekend. Chef Brain Luscher, The Grape Restaurant Dallas Tx, Chef Jason Porter, Seven Glaciers Anchorage Ak, Chef Joe Magnanelli , CUCINA Urbana + Enoteca San Diego Ca, Chef Joey Beato, Community Tavern, The Portage Chicago Il, and Chef Brandon Foster, Vesta Dipping Grill Denver Co. Introductions over, we joined a chef and headed out to find the best products available from the local purveyors.

Scott teamed up with Chef Brandon Foster and headed out to the first stop, Crows Goat Dairy. Wendell Crow and his wife Rhonda has partnered with their daughter Mary and her husband Erik to start Crow's Dairy in Buckeye, AZ where they make a variety of products from the milk of their large herd of purebred Nubian goats. This was a true educational experience where we learned "the ladies" all know their names and come when called. These "ladies" are protected by two layers of security against predators. The first level are Turkeys, yes they kill and eat rattlesnakes! Yes, we all knew that right? Of course the great overseer of protecting the "ladies" is a beautiful large Great Pyrenees, this large canine greets guests with a big smile and a lick unless you're a coyote. Having milked a goat, tasted some of the best cheese and goat milk paired with Arizona craft beer (it's very good!); we loaded up our ingredients and moved on to the next stop.
Across the valley, Elaine teamed up with Chef Brain Luscher where they made at stop at George B. Brooks Community School Greenhouse and Arizona Microgreens. Arizona Microgreens was founded by brothers Joseph Martinez and David Redwood and produce organic microgreens for restaurants, retail, throughout Arizona. It was interesting to see their special relationship with a school. They are located within the greenhouse at the George B. Brooks Sr. Community School and operate as a social enterprise that creates employment opportunities for the local community and contributes to the financial sustainability of the Community School. Choosing just the right mix, it was time to continue the afternoon's mission of finding locally produced products.
Chef Brandon Foster and Scott stopped into Cancer Treatment Center of America to meet Executive Chef Frank Caputo and tour his certified organic farm. After a wonderful lunch prepared by Chef Caputo with ingredients literally sourced from right outside the kitchen, it was time to roll up the sleeves and get to work on the farm. While walking the farm, Chef Caputo explained that the patients at his center do better by enjoying fresh organic products produced and sourced on the campus. Walking an organic farm picking produce on our knees with two chefs brought home what this whole experience was really all about.
Elaine and Chef Brain Luscher stopped into Blue Sky Organic Farms and Arizona Cheese. The first stop was the Blue Sky Organic Farms, a family farm located in Litchfield AZ. Blue Sky Organic farm been producing some of the finest certified organic produce in the Valley. They can also be found at the Scottsdale Farmers Market on Saturday and are now bringing a new CSA program, (Community Supported Agriculture), where neighbors can support the farm in exchange for a weekly share of the harvest. R. J. Johnson, the vocal advocate for the Farm and representative of Chef turned farmer, David Vose's farming techniques, gave us an extensive tour of the Farm, including providing for us a lovely lunch, with produce from the fields. During lunch he told us how he has seen the results of eating certified organic foods and how this has helped many people.
Although coming from a restaurant management background, he had no real understanding three years ago of the power of food in creating and maintaining your health. He now travels throughout the Valley teaching others of the benefits of a healthy lifestyle that includes eating whole foods. "I starting meeting people that where profoundly affected by their food, including three women, who were diagnosed with terminal cancer, to the point where they could not take anything else to help their situation, went on a 100% organic juice diet and they are now cancer free." "So, I have seen it and I believe and I preach it." "I have spent tens of thousands of dollars to be certified organic, and we farm for flavor not just for yields."
We were glad to have the opportunity to visit a place that exudes passion and some of the best produce in Arizona. For those who want to venture to the farm, there is a well stocked store open to the public and they their products are available at Whole Foods stores also. David Vose's produce is sold across the country and can be found in some of the best restaurants in the nation. We took our gifts from our dedicated host and looked forward to see what Chef Luscher was going to create with the bounty of the earth.
This tasty stop was just that, lovely and rich, in some of the best cheese around. Nearly two-and-a-half years after discussions began, the Arizona Cheese Company made its first vat of Blue Cheese and Cheddar Cheese on Monday, July 20, 2009. Manufacturing and packaging has continued during typical five-day weeks while volumes are gradually increased. Plan designs enable processing eventually of around 500,000 pounds of milk per day. Arizona has become second only to Wisconsin in the total number of pounds produced of Blue-veined cheeses, and is now the largest producer of private-label Blue-veined cheeses in the United States. For Hand-Crafted Artisan cheese made from All Natural, 100% Fresh Cultured Grade A Arizona Milk, Salt & Enzymes, this is the only place to go. Having gathered the bounty of the day it was time to put it to good use.
What is a dinner without a protein? With a Cheshire Cat smile Chef Brandon Foster visited The Meat Shop where he found a variety of beef, pork, chicken and lamb are sourced from Arizona farms and ranches. Coolers full, dreams of the dinner yet to come, excited all involved in the harvest.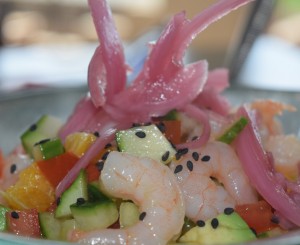 This gastronomic weekend, kept our palates constantly at work with a variety of master culinary classes taught by the five visiting
chefs, all unique in their own way. As oenophiles and sommeliers ourselves it was a pleasure and honor to taste and compare Chilean and Arizona wines with Master Sommelier Fred Dexheimer as the afternoon began to turn to evening.
Sitting in the cozy Mbar at the Omni Montelucia, we reflected on the experience that we have participated in over the last several days. This experience had us in organic farms, dairies, wineries, breweries and butcher shops collecting the best Arizona had to offer with renowned chefs. We saw all of our work sourcing ingredients with the chefs come together on a perfectly prepared plate of Arizona goodness. The inaugural James Beard Foundation desert to dish was a huge success and look forward to next year's event. Looking back over the weekend and the whole experience gave us a feeling that we know a whole lot more about Arizona and its diverse purveyors bringing healthy products to your plate.