Executive Chef Santos MacDonal, provides a vast array of locally sourced cuisine at IL Cortile in Downtown Paso Robles.  After an afternoon visiting several wineries, we were fortunate enough to be guests at one of Paso Robles finest Italian Restaurants, with the reputation of garnering the best in local, sustainable ingredients into a feast for the eyes, a delight for the senses, while creating memories that will stand out in your  culinary journey.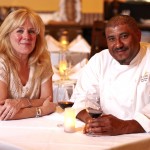 Chef and owner, Santos Mac Donal and his lovely wife Carole greeted us and gave us the background on the restaurant as well as their passion to create a space that embraces all the aspects of the Italian Courtyard experience.   They feature an experience that engages each person with the land, the people, and of course the social interaction of community all  coming together to relax, eat, and enjoy each other's company.  We were made to feel right at home and ready to experience some of the best in local cuisine Paso Robles has to offer.
Before we indulged in what would become one of the best dining experiences we have had in the Central Coast we wanted to get to know the man behind all of the accolades. Santos MacDonal began his career in the highly acclaimed Italian Restaurant, "Giorgio" in Malibu California, mentored by Chef Giorgio Baldi himself. He has worked at many great restaurants in Los Angeles including Via Veneto, Locando de Lago, Koi, La Sosta and more. He worked his way to Executive Chef at Bridge Restaurant and L'Angolo Cafe in Los Angeles.
Santos' philosophy is simple and tasty!   He strives to  use the freshest ingredients, locally sourced whenever available to create interesting and delicious dishes. He is constantly challenging himself to create new dishes that reflect what is available at any given time of the year.
Chef Santo's "dishes are a feast for the eyes and palate" we remarked more than once with contented sighs as we progressed through our feast.  We began our dinner with a glass of refreshing Proseco as we were joined by Chef and Carole. Looking over the menu we selected antipasti of grilled octopus, and local razor clams to get started.  Octopus and razor clams can be very difficult to cook, and often is a bit chewy, but Chef gave us the version that keeps the locals and visitors asking for seconds.
Chef was right on track when he brought out a very savory Beef short rib and his house specialty of homemade ravioli.  We enjoyed even more bounty from the sea with perfectly prepared scallops delivered with precision by our ever attentive server   .
We have dined in many restaurants in many cities over the years and we are often hesitant to "follow the herd" but  seek  out those local hidden treasures.
In this case, Paso Robles has a valuable "gem" of a restaurant downtown that has raised the culinary bar higher than ever before.  For an added bonus, Santos and Carole have just opened a hip mixology bar "la cosecha Bar + Restaurant "just a few blocks away.
Why not spend an evening visiting both venues when in downtown Paso Robles, you won't be disappointed!