Downtown Summerlin s fast becoming a sought-after gathering place to enjoy entertainment, luxury shopping and a plethora of dining options. One of the newest additions to the culinary line up is JING For over a decade JING has been one of the most recognized and highest rated restaurants in Denver and Aspen and now Las Vegas in Summerlin.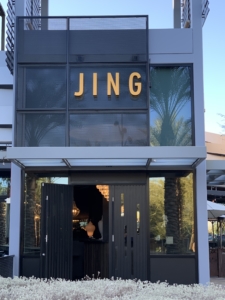 The menu concept is what they describe as Global Asian Cuisine, featuring prime steaks, high grade sushi and seafood-using products from locally sourced and organic farms. The ultra-chic setting includes compelling design details and imposing fire and water features combining for perfect chi or energy in this exceptional dining experience.
JING's Menu combines elements of the world's great flavors and fresh ingredients, featuring alluring dishes such as fresh house made dim-sum, king crab tempura, Hamachi sashimi, wagyu hot rock for sharing.  JING's wok fired favorites such as all white meat chicken, beef tenderloin, and seasonal vegetables keep guests coming back to try each tempting dish.
At the helm of JING you will find Executive Chef Joseph Elevado who is no stranger to Las Vegas. Elevado had previous stints at Andreas and Social house. His first position after graduating from New York Restaurant School was at NOBU in New York City. For nine years he was mentored by Chef Nobu Matsuhisa himself. It was at NOBU where he garnered his passion for creating a modern take on classic dishes using traditional Japanese techniques.
Waking into JING one can't help being impressed. It's sleek, modern design and large patio seating makes it a standout in Downtown Summerlin. The atmosphere and décor invoke a fine dining feel but convivial all at the same time.
In the center of the restaurant the large wrap around bar offers full-service dining and a spectacular cocktail and wine list.  Pull up and a seat and enjoy a signature JING Martini with Nue Vodka, Cinzano Dry Vermouth and hand stuffed Blue cheese olives. In addition to the martini, the JING Old Fashioned with Bulleit Bourbon, Barley Shochu, Brown Sugar and Angostura Bitters affords an excellent take on a famous classic cocktail.
Chef Elevado Serves Golbal Asian Cuisine. Watch On on CUISINEIST IGTV
If you desire to keep things simple- The American Kobe Burger with lettuce, tomato and topped with rich avocado is the answer to a serious burger craving. JING is known for their Sushi and their Alaskan King Crab Roll with crisp cucumber and creamy avocado certainly showcases a perfect bite.
Elevado has been lauded for his outstanding creativity for years-demonstrated with his own riff on classic Japanese cuisine.  JING's Famous Peking Duck with traditional flour wraps, leek and cucumber or the and Kobe Beef On The Rock-directly from Hyogo Prefecture, set the stage for culinary seduction by enticing the eye and the tongue with sumptuous flavors and artful presentation.
Elevado's expertise at skillfully and artfully preparing dishes that are simple and flavorful while using quality ingredients are sure to elevate JING as "THE" place to go, on and off the famed Las Vegas strip for years to come.