Recently we saw the transformation of shuttered Sensi, into Harvest by Chef Roy Ellamar. Transformation is a very positive word, in that it encapsulates change in the most positive mode, and that is exactly what has taken place between the walls of this new dining venue.
Incorporating a more open and inviting space with accents of wood paneling and hand blown light fixtures, Harvest creates an almost communal yet very sophisticated dining venue. Patrons also have the opportunity to see the dynamics of culinary creativity with the glass enclosed exhibition kitchen that creates an almost interactive dining experience.
Along with the welcoming and convivial décor, Las Vegas' own Chef Roy Ellamar calls upon his Hawaiian culture as the inspiration behind the menu that incorporates the best in local and regional produce, seafood and proteins. To start things "rolling" with our dining experience, the snack wagon, a cart showcasing small bites advertized as "delights", was our first taste in an array of eye-catching appetizers.
We opted for the Spicy Steak Tartare, with the classic dash of mustard seeds, oyster aioli and toast points.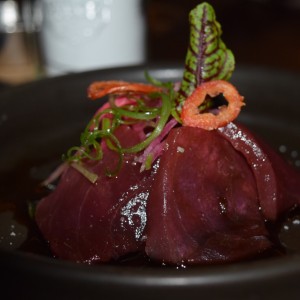 However, the eggplant caviar,Kalbi Filet Mignon, smoke salmon dip or the signature Hawaiian Poke were all vying for our first culinary impression.The bowl of clam chowder was by far one of our favorite offerings of the evening, with a creamy tangy broth that caused our saliva glands to dance with pleasure.
Freshness, sustainability and farm to table are the guidelines for the catch of day or the steak that you may order for your main dish. From the "Catch of the Day" to the succulent Harris Ranch Filet, Chef Roy Ellamar's Harvest is showcasing freshness of ingredients in the fullness of flavor. For more information go to: www. Bellagio.com