Renowned Chef Michel Richard heard his calling when he first caught a glimpse of a restaurant kitchen at the age of eight and his journey into culinary history began.  Chef Richard moved to Los Angeles in 1977 and opened his own patisserie Michel Richard to great accolades. He then traveled back and forth to France dining, learning and cooking in three-star Michelin-rated restaurants. In 1987 he opened Citrus, serving as executive chef and owner. There he found the flexibility to adapt French cuisine to the tastes of Southern California.
Citrus put Michel Richard on the culinary map in the United States.In  the same year of its opening,  Citrus was voted The Best Restaurant in the United States by Traveler's magazine and then in 1988 he was inducted into the James Beard Foundation's "Who's Who" in American Food and Wine.  Only a year later he opened Citronelle, offering a menu similar to that of Citrus, only with a fine dining atmosphere with an ocean view in the Santa Barbara Inn Hotel.
This amazing restaurateur went on to open Bistro M in San Francisco, and Citronelle in Baltimore and Philadelphia. In 1994, he opened Citronelle in The Latham Hotel in Washington DC.  Four years later he decided to concentrate his efforts on the East Coast. In early 1998 he   moved from Los Angeles to Washington DC to devote full-time attention to Michel Richard Citronelle. But Chef Michel would head west once again.

Recently Chef Michel Richard opened a new 24 hour restaurant at Caesar's Palace Resort and Casino in Las Vegas. "Central" restaurant is well situated across from the front desk and  offers some fundamentally good food 24 hours of the day.
The restaurant is very large and can accommodate any size party.  It's modern, sleek designs are offset by the whimsical stack of gigantic plates that serve as a sculptural piece in the front of house.
We were amazed at the size and the sleekness of this sophisticated, yet accommodating dining establishment that has something for everyone.
Our meal began with Ice berg and blue cheese salad  wedge of bright green iceberg lettuce with a creamy and tangy blue cheese dressing. The bright acidity from a dash of lemon, fresh crunchy iceberg, accented with small crisp croutons proved a manageable and tasty bite to begin our culinary journey.
Iceberg and Blue Cheese Salad
Another house favorite appetizer was the Michel's Faux Gras , which proved to be a delightful pate of creamy duck flavor.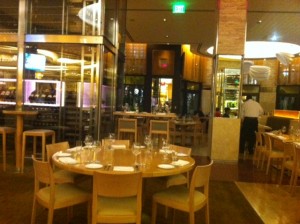 One could certainly see why Chef Richard would put his name on this decadent French appetizer.  Every bite was tangy, gamy and downright oh, la, la.   Another French classic, the onion soup, had a oriental take with a Miso based broth.
French Onion Soup
The soup was filled with the typical mounds of caramelized onions topped with gruyere cheese.  Our palates were now ready for the main event; the entrees.
The Loup de Mer, an amazing fish dish that made us take notice of the culinary skill and artistry of Executive Chef Todd Harrington .  This dish was cooked to perfection, and the delicate fish melted in our mouths.
Loup de Mer
The baby arugula salad was a nice peppery green salad that complimented the flavors of the fish.  A delightful meat dish was next up on our culinary horizon.  Rib-eye served with sauteed mushrooms proved to be  a dish we could not pass up .
The rib-eye was served with a peppercorn sauce that did not overpower the meat but added to the great caramelization of flavors.  The meat was again, cooked to a perfect medium, and served with an abundance of sautéed mushrooms.
Rib-eye served w sautéed mushrooms
Our palates were becoming satiated and we took a break  sipping our Chalone 2009, Monterey County  Pinot Noir.  This  wine  showed enough structure to hold up to the rich peppercorn sauce, yet delicate enough to compliment the fish dish.
For dessert we enjoyed  Michel's take on a chocolate bar.  And this was unlike any chocolate bar that we have ever experienced.  The bar was coated in light milk chocolate in a chocolate sauce with a wafer base that reminded us of a childhood cookie favorite, the chocolate wafer cookie, but for a very grownup palate.
Michel's Chocolate Bar
Central is the fundamental eatery to stop by for breakfast, lunch or dinner while staying at Caesar's or if you are hungry after a late night.  It has something for everyone with classic French and American cuisine.