California's Central coast is a bastion of fertile soil that sustains most of the nation with everything from produce, seafood, livestock and world class wines.  Most people drive north or south on highway one and rush right past this amazing region missing Paso Robles, San Luis Opispo and Morro Bay, all of which are jewels in their own right, very different, but interconnected by hundreds of years of agricultural history.
The best way to get a chance to experience this entire region in a single event is Sunset Magazine's Savor the Central Coast.  Savor the Central Coast is held annually the last weekend of September where guests can experience four days of culinary adventures featuring celebrity Chefs , Special Dinners and events all culminating in the Main Event at the historic Santa Margarita Ranch. We have had the pleasure of attending all of the events from its inception 3 years ago and have it carved in stone each year as an event that will not be missed.
Savor 2012 kicked off in high style with an opening night reception at the Hearst Castle beside the Neptune pool under the stars high above the Pacific Ocean.  Sipping local wines and enjoying Farm to Table Cuisine from the Dolphin Bay Resort's Chef Maegen Loring was a lovely way to get in the mood for the next three days.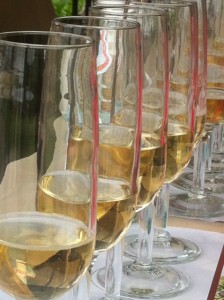 Day two brought a full schedule of adventure tours to choose from. Geocaching with Sunset President Barb Newton sent guests on a treasure hunt all over Santa Margarita Ranch.  A visit to nearby Edna Valley Vineyard and Clam Bake with Sunset Wine Editor Sara Schneider has the guest s all abuzz with stories from their adventure in the vineyard. Food Editor Margo True led a group of food lovers to Paso Robles for a farm to table tour.  Ever had lunch with a magazine Editor-in-Chef? Guest had their chance to dine with Kitty Morgan for a tour and lunch at  a working Abalone Farm.  And for those who wanted more, other Sunset Editors took groups all over the central coast touring and lunching at  some incredible venues.
After an afternoon touring and sampling the best this heavenly area had to offer, many guests put on their best and headed for Pismo Beach and the Sunset International Wine Competition Grand Tasting and Dinner. The Sun was setting over a very picturesque seen beach side as mouthwatering cuisine from Chef Gregg Wangard of the famous Marisol at the Cliffs Resort was delivered to our table.  This event was actually three.  Upon arriving, we were treated with a reception that featured some of the area's finest restaurants and wine.  Guests were then treated to a Gala dinner, followed by an after-party under a starlit night as the mesmerizing waves arrived at the beach just few 100 yards away.
The morning fog lifted in the morning to reveal a picture perfect Central Coast Day for the first day of the Main Event.  If you can only attend one event over this 4 day celebration, this is the one to attend. This one event has something for everyone over the two days. It highlights winemakers, celebrity chefs, brewmasters, fishermen and food producers who are all within a 60 mile radius or less.
Held at the Santa Margarita Ranch we strolled the venues sampling the many wines, beer, local restaurants and local vendors doing what they do best.  We settled in to the beer  garden for a brief break between events and listened to local musicians and strolled through Sunset Magazine inspired gardens that are sure to give those home master gardeners something to think about for their own projects.
Chef Central was the place to be as you just had to follow the passionate guests to see why.  Food Network Star Aarti Sequeria was back again and took stage show off her skills to the delight of many. Hot Tamale Chef Susan Feniger from the Border Grille shared her lifelong passion for layers of flavors her culinary secrets to a sold out audience.
Celebrity Chef Rick Moonen came in from the culinary powerhouse of Las Vegas and his RM Seafood to talk and share his passion for cooking.  Emmy award winner and Food Network Star Ted Allen hosted the battle of the bay that featured  two  local chefs competing  with the best skills they have to offer up to the excitement of the eager audience.
The final night featured one of our favor ate events. Paso Glow , held this year at Windfall Farms.  Just as we kicked off the first night in elegant style, Savor 2012 went all out for the finale.
Guests were treated to dinner under the stars at a working ranch that featured local restaurants, BBQ, wine, beer , music , and even colorful  Hot Air Balloons .  We could not even imagine  being anywhere else than at Windfall Farms as the evening  pasted by under the oak trees on a beautiful Central California night and a cool clean breeze from the nearby hills.
Once again Sunset Magazine hit a home with the Savor 2012. This is a very special part of the world and should be enjoyed and savored. Why not join us for Savor 2013, you will be inspired,  enlightened and certainly not disappointed.